THE BEST OF THE OPEN LINE BULLETIN
Page 1 Top of Page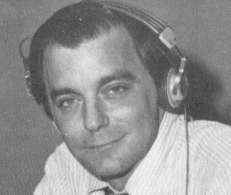 Jim Rogers Open Line host from July/August 1975 to January/February 1981.
SUPER HAWAIIAN PINEAPPLE PIE
3 Tbsp. cornstarch
¼ tsp. salt
¾ cup sugar
2½ cups unsweetened crushed pineapple, undrained
2 egg yolks, slightly beaten
2 Tbsp. butter
2 Tbsp. lemon juice
1 vanilla wafer pie shell (takes about 24-28 wafers with a little butter)
½ cup (additional) crushed pineapple, drained
1 cup whipped cream, whipped
Sift the cornstarch, salt and sugar together. Stir in a little of the pineapple juice, about ¼ cup. Add remaining juice and cook in the top of a double boiler until it thickens, stirring constantly (about two minutes). Then add the 2½ cups of undrained pineapple for the filling. Slowly, stir in the egg yolks. Return to heat and cook two minutes more, stirring constantly. Remove from heat and add the butter and lemon juice. Cool. Pour the filling into the pie shell. Add the ½ cup drained crushed pineapple to the whipped cream and spread over the top. Refrigerate for 1-2 hours.
PINEAPPLE TWO-CRUST PIE
Use 2 eggs
1 1/3 cup sugar
1 Tbsp. lemon juice
2 cups shredded, fresh pineapple or use 2¼ cups of unsweetened canned crushed pineapple
1 plain pastry shell
1 Tbsp. butter
Beat the eggs slightly. Add sugar and the lemon juice and the pineapple. Line an 8" pie pan with the pastry. Pour in the filling, top with pastry, dot with butter and bake in a 450° oven for 10 minutes. Reduce heat to 350° and continue baking for 35 minutes. (Total Time: 45 minutes.)
TO CONVERT REGULAR FLOUR TO SELF-RISING:
For every cup of regular flour, add 1 tsp. of baking powder and ½ tsp. salt.
TOP SECRET PINEAPPLE PIE
3 large eggs
¾ cup sugar
1 #2 can of crushed pineapple
1 9" unbaked pie crust
4 Tbsp. butter
In a bowl, mix eggs, sugar and pineapple well. Pour into the pie shell. Bake at 350° for 45 minutes or until firm. When almost finished baking, melt the butter in a saucepan and let it brown slightly. Spoon onto top of pie just as soon as it comes out of the oven.
GRANNY'S PINEAPPLE CAKE
2 cups flour
1½ cups sugar
1½ tsp. baking soda
½ tsp. salt
2 eggs
1 #2 can UNDRAINED, crushed pineapple (2½ cups)
Mix well together. Pour into 9 x 13" GREASED pan. Sprinkle over the top ... 2 Tbsp. powdered sugar or ¼ cup brown sugar. OPTIONAL: ½ cup chopped nuts. Bake 40-45 minutes at 350°. While still hot punch holes all over it with fork and pour over the following sauce:
1 stick butter or margarine
1 small can evaporated milk
¾ cup sugar
1 tsp. vanilla
Bring to a boil and boil for one minute. Pour immediately over the cake.
ONE EGG, SEVEN MINUTE FROSTING
1 cup sugar
dash salt
1/8 tsp. cream of tartar
1/3 cup boiling water
1 egg white
Over boiling water in top of a double boiler, beat all ingredients with hand mixer for seven minutes until peaks form. Done.
Page 2 Top of Page
ORANGE KISS-ME CAKE ...
Grand National Prize Winning Recipe by Pillsbury. Won $25,000 in 1950 by Mrs. Peter Wuebel, Redwood City, California.
Grind together:
1 large orange, pulp and rind (reserve juice for topping)
1 cup raisins
1/3 cup walnuts
Sift together:
2 cups sifted enriched flour
1 tsp. soda
1 tsp. salt
1 cup sugar
Add:
½ cup shortening
¾ cup milk
Beat: with electric mixer blend at low speed, then beat at medium speed for two minutes.
Add:
2 eggs, unbeaten
¼ cup milk
Beat: for two more minutes Fold: orange raisin mixture into batter Pour: into well greased and lightly floured 12 x 8 x 2 inch pan or may be baked in two 8-9 inch round layer pans. Bake: 350 degrees for 40-50 minutes in loaf pan or 35-45 minutes for round cake pans.
ORANGE NUT TOPPING:
Drip: 1/3 cup orange juice over warm cake
Combine:
1/3 cup sugar
1 tsp. cinnamon
¼ cup chopped walnuts, sprinkle over cake
Decorate with orange slices
COCONUT ORANGE CAKE
1 pkg. (2 layer size) white or yellow cake mix
1 cup milk
2 eggs
½ of 6 oz. can of frozen orange juice concentrate (thawed)
½ cup flaked coconut
Also, will need 1/3 cup flaked coconut for the topping.
Combine cake mix, milk, eggs and the orange juice concentrate. Beat at medium speed on the electric mixer for four minutes. Fold in the ½ cup coconut. Pour into two greased, floured 9" layer pans. Bake at 350° for 30-35 minutes.
FROSTING:
1 cup sugar
1/3 cup water
¼ tsp. cream of tarter
dash of salt
Bring to boiling, stirring until sugar dissolves. Slowly add the sugar syrup to two unbeaten egg whites, beating constantly with the electric mixer until stiff peaks form about seven minutes. Then beat in 1 tsp. vanilla. Cover both cakes. Then, tint the 1/3 cup coconut with 1 tsp. orange juice and sprinkle on the top of cake.
PISTACHIO NUT CAKE
¾ cup sugar
2 Tbsp. cinnamon
1 cup pecans, chopped fine
1 box white or yellow cake mix
1 pkg. ROYAL pistachio pudding
4 eggs
¾ cup water or orange juice
1 cup sour cream
1 tsp. vanilla
¼ cup cooking oil
Grease thoroughly a tube pan or bundt pan. Mix first three dry ingredients in a small bowl. Cover bottom and sides of pan with about 1/3 of the above mixture. Set remaining mixture aside. Blend all other ingredients to make batter, and beat four minutes. Alternate the layers of batter with remaining sugar mixture in the greased baking pan. Swirl batter with fork and bake at 350° for one hour. Cool about 15 minutes. Turn out on a plate. Sprinkle powdered sugar over top of cooled cake.
SUGAR COOKIES
1 cup butter or margarine
1 cup of shortening (Crisco type)
1 cup white sugar
1 cup brown sugar
2 eggs
1 tsp. vanilla
1 tsp. baking soda
½ tsp. salt
1 tsp. cream of tartar
4 cups flour
Mix all ingredients well and chill in the refrigerator overnight (or a few hours). Then roll into 1" balls. Set on a cookie sheet and bake at 350° for 10-12 minutes. Makes a BUNCH.
SOFT SUGAR COOKIES
¾ cup shortening
1 cup sugar
1 egg, beaten
5 Tbsp. milk
3 cups flour sifted
Sift flour, add 2 scant tsp. cream of tartar, 1 tsp. soda ¼ tsp. salt and ½ tsp. vanilla. Mix. Refrigerator for a few minutes, then roll out and cut. Sprinkle with sugar. Bake at 350° for about 20 minutes.
Page 3 Top of Page
IMPOSSIBLE COOKIE
Beat up one egg white VERY stiff. Gradually add 1/3 cup sugar. (Add either chopped nuts, chocolate chips or coconut, OPTIONAL.) Drop by tsp. on a greased cookie sheet. Preheat oven to 400°. Put cookies in the preheated oven and turn it off. Do it in the evening and take them out in the morning. Makes one dozen.
BOURBON BALLS
3 cups ground vanilla wafers (one 12 oz. pkg.)
1 cup ground black walnuts
1 cup sifted powdered sugar
3 Tbsp. light Karo syrup
1½ Tbsp. cocoa
¼-½ cup bourbon
Roll into balls and roll the balls in powdered sugar. Let set and roll again in powdered sugar. Makes 50-60 1 inch balls. Store in air tight container.
PRETZELS (SOFT, LARGE)
1 cake yeast, dissolved in 1½ cups warm water
Add:
1 tsp. salt
1 Tbsp. sugar
Blend in 4 cups flour
Knead dough until smooth. Cut in small pieces and roll into ropes and twist into desired shapes. Place on lightly greased cookie sheets. Brush each pretzel with 1 beaten egg. Sprinkle with coarse salt. Bake immediately at 425° for 12-15 minutes. Makes about 18 large pretzels.
For HARD PRETZELS, use 1¼ cups water and add ¼ cup melted butter. Make the pretzels smaller and bake until brown.
HARD ROLLS
1 egg white, beaten
2 Tbsp. water
Some enriched corn meal
Combine the egg and the water and brush on the top of rolls. Sprinkle lightly with cornmeal. Put them in the oven. After 20 minutes of baking at 375°, brush with water and brush with water every 10 minutes until done. (Rolls take about 40 minutes.)
TO CONVERT MARSHMALLOWS IN RECIPES TO MARSHMALLOW CREME:
40 marshmallows = 2 cups of marshmallow creme
DIVINITY (with marshmallow cream)
2 cups sugar
½ cup water
2/3 cup marshmallow cream
1/8 tsp. salt
2 egg whites
1 tsp. vanilla
OPTIONAL: nut halves or candied cherries
Combine sugar, water and marshmallow cream in saucepan. Heat, stirring until the sugar is dissolved. Cook without stirring until the mixture forms hard bails. Just before this time, beat the egg whites until stiff. When syrup is ready, remove from heat and pour slowly over the egg whites, stirring constantly. Beat until the gloss disappears and the candy becomes dull. Add vanilla. Drop by teaspoonfuls on to wax paper. Top with cherry or nuts.
DIVINITY (uncooked)
1 7 oz. jar marshmallow cream
3 Tbsp. water
2 cups sifted powdered sugar
½ cup chopped nuts
1 tsp. vanilla
Put in a bowl, the marshmallow cream, water and vanilla, and beat until stiff peaks form. Fold in BY HAND the powdered sugar, flavoring and chopped nuts. Drop onto wax paper. Let set until firm (may add color).
NEVER-FAIL DIVINITY
from Lancaster, Mo.
For syrup: cook to 270 degrees
3 cups sugar
¾ cup white syrup
½ cup water
Meanwhile, beat two egg (whites) until they are foamy. Add 1 pkg. (3 oz.) Jello (any flavor) and 3 Tbsp. powdered sugar with a dash of salt and ½ cup chopped nuts. Continue beating together until syrup is ready (doesn't take long). Pour syrup over the mixture. Drop by teaspoonful onto a cookie sheet on wax paper.
FOR BIRTHDAY CARDS from the White House for ages 80 plus and anniversaries 25 plus.
Office of Correspondence East Wing
THE WHITE HOUSE Washington, D.C. 20500
Allow 6 to 8 weeks ahead and include name, address and occasion.
Page 4 Top of Page
Sue Palmore of the Dairy Council paid a visit to the OPEN LINE and shared with us several luscious recipes for using fine Iowa cheeses. A modest sample follows, including an elegant recipe for "Quiche Lorraine"
QUICHE LORRAINE
Bake at 450 degrees for 15 minutes, then at 350 degrees for 15 minutes. Makes 6 servings.
½ pkg. pie crust mix
6 slices bacon
1 medium size onion, chopped (½ cup)
2 cups shredded Swiss cheese (8 ounces)
4 eggs
2 cups milk
1 tsp. salt
¼ tsp. ground nutmeg
1/8 tsp. pepper
1, Prepare piecrust mix, following label directions, or make your own single crust pastry recipe. Roll out to a 12 inch round on a lightly floured pastry board; fit into a 9 inch pie plate or fluted quiche dish. Trim overhang to ½ inch; turn under, flush with rim; flute to make a stand up edge. Prick shell well all over with fork. (For quiche dish, level pastry so as to be even with rim.)
2. Bake in hot oven (425°) oven 5 minutes; remove to wire rack; cool slightly. Increase the oven temperature to hot (450°).
3. Fry bacon in small skillet until crisp; drain all but 1 tbsp. fat; crumble bacon.
4. Sauté onion in bacon fat until soft. Sprinkle cheese evenly in a layer in partly baked pastry shell; add bacon and onion.
5. Beat eggs slightly in a medium size bowl; slowly beat m milk, salt, nutmeg and pepper; then pour into pastry shell.
6. Bake in hot oven (450°) 15 minutes; lower oven temperature to moderate (350°) for 15 minutes; or until center is almost set but still soft. (Do not overbake, for custard will set as it cools.) Let stand 15 minutes before serving; cut into wedges.
CHILl CON QUESO
1 small onion, minced
2 Tbsp. butter
1 cup solid pack tomatoes
2 Tbsp. jalapeno peppers
½ lb. Monterey Jack cheese, cubed
1 cup cream
salt and pepper
Sauté onion in butter add tomatoes, peppers, salt and pepper. Simmer 15 minutes. Then add cheese. When cheese begins to melt, add the cream and stir until all the cheese is melted. Serve in a fondue pot or chafing dish WARM with corn chips.
HAM SANDWICHES
½ cup butter
2 Tbsp. onion, grated
2 Tbsp. prepared yellow mustard
1 Tbsp. poppy seed
Spread the mixture ... 1½ tsp./sandwich. Add sliced Swiss cheese, sliced ham. Wrap sandwiches in foil and freeze. Remove from freezer and heat at 350° for 20 minutes.
CHEESE FONDUE
½ cup sauterne
1 med. clove garlic, minced
4 oz. Swiss cheese, slices, in pieces
2 Tbsp. flour
1 can condensed cheddar cheese soup
In fondue pot, simmer wine and garlic. Combine cheese and flour. Gradually blend into wine. Heat until cheese melts. Stir. Blend in soup, stirring until smooth. Makes two cups. Use French bread pieces to dip.
POTATO CASSEROLE
2 lb. pkg. frozen hash browns
2 cups sour cream
2 Tbsp. minced onion
1 can mushroom soup
½ cup grated cheese
1 tsp. salt
½ tsp. pepper
½ cup butter, melted
Combine and put in buttered casserole at 350° 40-60 minutes (15 servings)
Suggested changes for this basic recipe: Instead of 2 cups of sour cream use only 1 cup and substitute an additional kind of cream soup (celery or potato). Green pepper can be added for flavor with paprika and parsley for garnish.
CROCK-POT/OVEN EQUIVALENTS:
300° oven = crock-pot HI
200° oven = crock pot LO
Oven Time Crock Pot Time
Minutes Hours
15-20 1½-2½ on HI
4-6 on LO
35-45 3-4 on HI
4-6 on LO
50-3 hrs. 8-10 on LO
Page 5 Top of Page
MIKE ROY'S COCKTAIL MEATBALLS
1 lb. ground beef
1 tsp. salt
¼ tsp. pepper
¼ cup chili sauce
1 Tbsp. WOR sauce
¼ cup onion, chopped fine
½ cup corn flakes, crumbled
½ cup evaporated milk
Mix and roll into tiny balls. Place on cookie sheet and bake at 400° for 12 to 15 minutes. Serve with following sauce:
16 ounces beer
1/3 lb. brown sugar
½ bottle chili sauce
Bring to a boil and add meat balls. Great for a chafing dish.
BOURBON HOT DOGS
2 pounds hot dogs cut into 1 inch pieces
¾ cup bourbon
1½ cups catsup
¾ cup brown sugar
1 Tbsp. grated onion
Combine all ingredients and simmer for three hours in a heavy dish. Serve.
MOM'S VEGETABLE DIP
1 cup mayonnaise
1 cup sour cream
1 tsp. "beau monde" seasoning (Spice Islands)
2 tsp. dill weed
Garlic salt and onion salt to taste
Mix together and refrigerate.
HORSERADISH CHIP DIP
1 cup (pkg. 1 sour cream
1/3-½ cup of drained horseradish
1 tsp. WOR sauce
½ tsp. celery seed
½ tsp. salt
¼ tsp. paprika
Mix together, use as chip dip or vegetable dip.
MOCK PIZZA DIP
2 8 oz. pkgs. cream cheese
¼ cup milk
Beat these together until smooth. Spread on a flat pizza like) serving tray (like pizza dough). Over the cheese, spread 1 cup catsup with horseradish to taste (shrimp sauce). Sprinkle with garlic powder. Over this spread 1 can crab meat and 1 can medium shrimp. Sprinkle parmesan cheese over all and garnish with parsley flakes. Stand Ritz crackers around the edge for dippers and serve.
PORK & BEAN DIP (HOT)
1 #2½ cans pork & beans
½ cup shredded, sharp American process cheese
1 tsp. garlic salt
1 tsp. chili powder
½ tsp. salt
dash cayenne pepper
2 tsp. vinegar
2 tsp. WOR Sauce
½ tsp. liquid smoke
4 slices crisp, cooked bacon
Combine everything except the bacon. Put in blender and "blend" for one minute. Then pour into chafing dish or fondue pot and top with crumbled bacon. Serve.
FRESH FRUIT DIP
Half and half portions of sour cream and brown sugar. (EXCELLENT with grapes!)
CHOCOLATE FONDUE
6 1 oz. squares of unsweetened chocolate
1½ cups sugar
1 cup light cream (½ and ½)
½ cup butter or margarine
1/8 tsp. salt
3 Tbsp. creme de cocoa or orange liqueur
Melt chocolate in a saucepan over low heat. Add sugar, cream, butter and salt. Cook, stirring constantly, about 5 minutes or until thickened. Stir in liqueur. Pour into fondue pot and EAT. Suggested dippers: angel food cake, pound cake, apples, maraschino cherries.
SUNSHINE SALAD
In 9 x 13 pan ...
1 pkg. orange Jello
1 pkg. lemon Jello
2 cups HOT water
1½ cups COLD water
When cool, add 1 tall can crushed pineapple, drained.
Save the juice.
40 small marshmallows
2 diced bananas
Let set ...
Then, spread over the top:
1 egg, beaten
2 Tbsp. flour
½ cup sugar
2 Tbsp. butter
1 cup pineapple juice (juice from above plus water to make the cup)
Cook until thick. Cool. Fold in 1 cup of heavy cream, whipped. Spread over tile jello. OPTIONAL ... garnish with grated cheese.
Page 6 Top of Page
HOT TAMALES
from scratch
2-3 lb. pork shoulder roast or chicken or beef. Cover with water in the pan and boil for 2-3 hours or until very tender and meat falls off the bone. Do NOT salt. When meat is done, drain and reserve the broth. Shred the meat and keep warm. While the meat is cooking, place in a saucepan: (Heat slowly for one hour)
1 cup red chili sauce or 1 10 oz. can of enchiladas sauce
2 scant Tbsp. chili powder
2 Tbsp. chopped ripe olives
1 4 oz. can of green chilies or ½ cup fresh green pepper, chopped
1 large onion, chopped and sautéed
Set saucepan aside.
Sort and separate the corn husks and then set in warm water for two hours. (Use a long cake pan),
4 cups masa meal
1 1/3 cup lard
Beat these two ingredients together like mush. Then add 2 tsp. salt and 2 2/3 cups of liquid, using all of the meat broth. Now flatten out the pieces of dough into 3 or 4 inch squares. Lay the squares on the corn husks, leaving enough husk for tying the ends. On each square of dough, spread about 1 tsp. of the meat and 1 tsp. of the sauce. Roll up the husk around the tamale and tie the ends. Place tamales on rack over hot steam/water. Steam for one hour until the dough sets and is firm. Cool slightly and serve, or can pack for freezing. Makes 2-3 dozen.
EASY CORNED BEEF CASSEROLE
1 12 oz. can corned beef, diced (when cool)
1 8 oz. pkg. of noodles, cooked and drained
¼ pound grated American cheese
½ cup minced onion
1 can cream of chicken soup
1 cup milk
Combine all ingredients. Pour into 1½ quart greased casserole. Top with ¾ cup of buttered bread crumbs. Bake at 350° for 45 minutes, uncovered.
ITALIAN BROCCOLI CASSEROLE
2 10 oz. pkgs. frozen cut broccoli
2 eggs, beaten
1 can condensed cheddar cheese soup
½ tsp. dried oregano
1 8 oz. can stewed tomatoes cut up
3 Tbsp. parmesan cheese
Cook frozen broccoli in unsalted boiling water 5-7 minutes. Combine eggs, cheddar cheese soup and crushed oregano. Stir in stewed tomatoes and cooked broccoli. Turn the vegetable cheese mixture into a 10 x 6 x 2 baking dish. Sprinkle with parmesan cheese in 350° oven 30 minutes.
CORNED BEEF NOODLE CASSEROLE
2 12 oz. pkgs. noodles, boiled in salt water
2 small cans of corned beef
2 cans of cream of mushroom soup
2 cans of cream of celery soup
3 small cans of evaporated milk
2 Tbsp. chopped onion.
1 small (2 oz.) jar of pimientos, cut up
1 cup Velveeta cheese, cut into small chunks
Add salt and pepper to taste
Put in two baking dishes. Garnish with crushed potato chips or bread crumbs. Bake at 350° for 1 hour. Note: Large recipe ... can be divided and frozen.
PIZZA CRUST
3 cups flour
1½ tsp. sugar
2 tsp. salt
1 pkg. dry yeast
1 cup HOT water
2 Tbsp. oil
Mix well, 1 cup flour, sugar, salt and yeast. Gradually add the water and 2 Tbsp. oil. Beat one minute at LOW speed, scraping bowl occasionally. Then stir enough flour in to make a soft dough. Turn out onto a lightly floured board. Knead until smooth and elastic, 8-10 minutes. Then put into a greased bowl, cover and let rise until doubled. Divide in half. Press each half into a greased 12" pizza pan. Top. Bake. Makes two pizzas.
PIZZA SAUCE
6 oz. tomato paste
4 oz. hot water
¼ tsp. salt
¼ tsp. onion salt
¼ tsp. garlic salt
1/8 tsp. chili powder
1/8 tsp. sugar
1/8 tsp. oregano
½ tsp. sugar
dash onion flakes
2 dashes black pepper
Dash commercial "pizza seasoning" Use with sausage and/or cheese pizza.
LO-CAL FRENCH DRESSING (no catsup or sugar)
1 Tbsp. cornstarch
1 cup water
4 Tbsp. wine vinegar
2 Tbsp. vegetable oil
1 clove garlic
¾ tsp. salt
¼ tsp. pepper
¾ tsp. paprika
Mix well in a small saucepan. Bring to boiling, stirring constantly over LOW heat. Cook five minutes more. Cover and chill.
Page 7 Top of Page
JIM'S RECIPE FOR CROCK-POT PORK CHOPS
6-8 lean pork chops, browned
1 can undiluted cream of mushroom soup (blend soups and spices)
1 can undiluted cream of celery soup
¼ cup milk
Dash tabasco sauce
1 tsp. WOR sauce
2 Tbsp. chopped (minced) onion
Layer chops and soup mixture in the crock pot. Cook on low for 8 hours. To use the sauce for gravy, remove chops (keep them warm in the oven) add ½ cup water and any additional seasonings desired, then cook on HIGH for one additional hour. Serve.
PORK CHOPS OR CHICKEN WITH HOMEMADE SHAKE AND BAKE
1 cup bread crumbs
¼ cup flour
1 tsp. "poultry seasoning"
1 Tbsp. paprika
1½ tsp. salt
½ tsp. pepper (white pepper, optional)
Mix together for about five pounds chicken. For pork: wet the chops with water or milk and shake in a plastic bag. Makes enough for two meals. Bake at 350° for 45-60 minutes, uncovered in a baking dish may use a dish with a baking rack.)
LAZY DAY PORK CHOPS
For four pork chops (but can be doubled.) Put pork chops into a shallow baking dish and sprinkle with 1 Tbsp. of instant onion soup mix. Add 2 Tbsp. of creamy French dressing to ¼ cup water. Mix and pour over chops. Cover and bake at 350° for one hour. (Can uncover for the last 15-20 minutes or so.)
DRUNKEN BEEF STEW
from Marshalltown
3 lbs. stewing beef
2 cans cream of mushroom soup (undiluted)
1 can of undrained, cut mushrooms
1 pkg. dried onion soup mix
1 cup water
½ cup red cooking wine
Stir together (uncooked) in a large casserole dish. Cover. cook at 350° for 3 hours. Serve on noodles. Stir once when done.
IRON SKILLET PORK CHOPS DELIGHT
4-6 pork chops
3 Tbsp. brown sugar
3 Tbsp. prepared mustard
4-6 pineapple rings
½ cup pineapple juice
1 green pepper
1 large onion
Syrup ... ¼ cup brown sugar, ¼ cup pineapple juice 1/3 cup butter, melted. Brown pork chops in skillet. Mix the 3 Tbsp. brown sugar and 3 Tbsp. mustard together. Brush onto the pork chops. Place 1 pineapple ring on each chop. Also a ring of green pepper on the pineapple slice, then the onion sliced. Cover and cook on low heat for about one hour. Add water as necessary. Arrange some sweet potatoes around outside of skillet. Pour the syrup over them. Cook just until heated through. Serve.
CHICKEN BREASTS BAKED IN CREAM
2 whole chicken breasts (supremes) about 2 lbs.
3 Tbsp. fat (shortening or butter)
1/3 cup chopped onions
1 small garlic clove, minced
¾ cup cream
1½ tsp. salt
1/8 tsp. pepper
2 tsp. WOR sauce
Cut the breasts in half, making four serving pieces. Pre heat oven to 300°. Brown the breasts in fat until golden brown. Heat the onion, garlic, broth, seasonings and cream in a saucepan. Place the breasts in a roaster and pour sauce over them. Bake covered for two hours at 300°. Uncover and bake for 15-20 minutes more. FOR GRAVY: 3 Tbsp. flour and 1 cup water. Add to drippings in roaster for 2-3 minutes. Serve with rice and hot rolls.
CHARLOTTE YOUNG'S EASY-WAY SAUERBRATEN (Crock-Pot)
3 to 4 lb. boneless pot roast (about 2 inches thick)
1 large onion, sliced
½ cup wine vinegar
1 bay leaf
1 clove garlic
dash pepper
1 (1 3/8 oz.) pkg. onion soup mix
3 gingersnaps, crushed
Trim all excess fat from pot roast. Place onion in slow cooker, then pot roast. Add wine vinegar, bay leaf, garlic and pepper. Sprinkle onion soup mix over meat, coating all sides. Cover slow cooker and cook on low for 8 to 10 hours. Turn slow cooker to high. Remove meat and place on carving platter. Add gingersnaps to meat juices in slow cooker. Cook and stir until smooth and thickened. Serve gravy over roast.
Page 8 Top of Page
IOWA CITY LIVER LOAF
Cover 1 lb. of beef liver with hot water. Let stand five minutes. Drain thoroughly then grind liver and one medium onion.
Then combine with:
½ lb. pork sausage
1 cup dried bread crumbs
½ tsp. WOR sauce
1 Tbsp. lemon juice
1 tsp. salt
½ tsp. celery salt
¼ tsp. (dash) pepper
2 eggs, beaten
½ cup milk
Put in well greased loaf pan and bake for one hour at 350°.
DANISH LIVER LOAF
Grind as fine as possible:
1½ lbs. of liver (pork preferred)
1 lb. pork sausage (plain)
1 small onion
2 slices of bread soaked in
1 cup milk
Add:
2 Tbsp. flour
½ tsp. pepper
3 eggs
1 Tbsp. salt
¼ tsp. allspice
¼ tsp. cloves
Mix well and bake in loaf pan set in another shallow pan of water. Cover with strips of bacon. Bake two hours in 325-350° oven.
ARTILLERY PUNCH
Makes 12 servings (about 1½ cups each)
4 cups strong tea
2 cups orange juice
1 cup lemon juice
1 bottle (4/5 quart) dry red wine.
2 cups gold rum
2 cups rye whiskey
1 cup gin
1 cup brandy
1½ ounces Benedictine (optional)
½ cup sugar
Ice block
1 bottle (4/5 quart) champagne, chilled
Lemon slices
1. Mix all ingredients except ice, champagne and lemon slices in punch bowl. Let stand in cool place 48 hours.
2. Place block of ice in punch bowl just before serving. Pour champagne over ice, Garnish with lemon slices.
KALUHA (homemade)
3 cups white sugar
12 rounded Tbsp. cornstarch
1 rounded Tbsp. butter
1 large Tbs. vinegar
Add 2 cups warm water slowly and stir. Bring mixture to boil over low heat for about four minutes. Add: ¼ cup brandy or rum WITHOUT heat. Very good on fruit cake, puddings, Christmas bread.
Click here to go to the next month of 1976.