THE BEST OF THE OPEN LINE BULLETIN
Page 1 Top of Page
Our thanks to the Ar-Jay Center for providing WMT and the Iowa Beef Council to hold the "Chuck Challenge''. Dwayne and Rich went chuck eye to chuck eye with Rich taking first place for the most eye appealing and tasty recipe. However, in all fairness the second place winner was a crowd pleaser. A special thanks to Ralph Palmer, Vice President & General Manager of the Ar-Jay Center: Pricilla Root, Iowa Sheep Industry Advocate, and Nancy Degner, Director of Consumer Information & Nutrition for the Iowa Beef Industry Council for their help.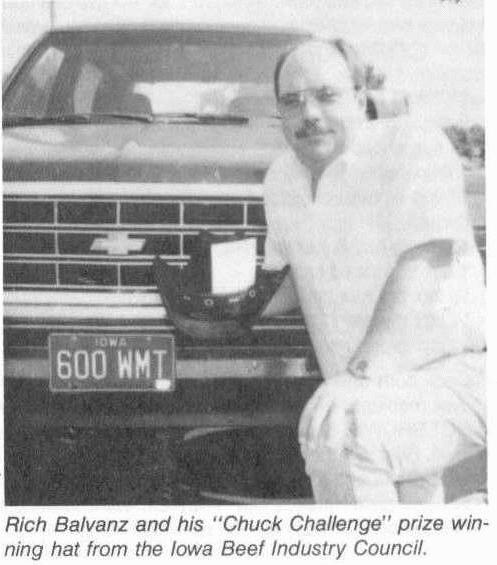 "Chuck Challenge" Award Winning Recipe from WMT Farm Director Rich Balvanz
CHAMPIONSHIP CHUCK KABOBS
Trim outside fat from 2 lbs. of top blade or chuck eye steak. Cut into ½ to ¾ inch cubes.
Place in marinade consisting of:
½ cup lite soy sauce
½ cup red cooking wine
¼ cup lemon juice
1 tbsp. chili sauce
1 tbsp. brown sugar
½ tsp. minced garlic
Marinate at least four hours. Overnight is preferred.
BBQ on skewers at low to medium heat to preferred doneness, usually about 20 minutes.
(For effect, BBQ on pickup tailgate for "CHUCK ON A TRUCK".)
NACHO DIP IN A CROCK POT
16 oz. jar mild taco sauce
1 lb. mild Mexican Velveeta
2 lbs. regular Velveeta
Put ingredients in crockpot on high. In a skillet, cook 1½ lbs. ground beef with seasonings of your choice. Cook until done and drain. Put ground beef in crockpot with taco sauce mixture. Cook for 15 minutes on high, then turn to low and blend mixtures. Serve with your favorite crackers or chips.
"Chuck Challenge" Runner up recipe from Open Line Host Dwayne Schmidt
SALSA FLAVORED BEEF STEAK
1¼ lbs. boneless beef chuck bottom blade steaks, cut 1 inch thick
1/3 cups prepared salsa (mild, medium or hot, as desired)
2 tbsps. fresh lime juice
1 clove garlic, minced
1 tsp. dried oregano leaves
¼ tsp. ground cumin
Combine salsa, lime juice, garlic. oregano and cumin: reserve 2 tbsps. marinade. Place beef steaks in plastic bag; add remaining marinade, turning to coat. Close bag securely and marinate in refrigerator 6-8 hours (or overnight, if desired), turning occasionally. Remove steaks from marinade and place on grid over medium coals. Grill 18-24 minutes for rare (140°) to medium (160°), turning once. Brush with reserved marinade during last 5 minutes of cooking. Carve into thin slices, 4 servings. 219 calories per serving.
Page 2 Top of Page
MEAT TARTS
(PIROSHKI IN RUSSIAN)
2 cups flour
½ cup sour cream
1 egg yolk
2 tbsps. butter, melted
Filling:
½ lb. fresh meat or chopped leftovers
1 onion, minced
1 tbsp. butter
½ tsp. salt
Brown onion in butter, add meat and seasoning. Cook till redness gone or heated through, stirring till done.
Sift flour and add melted butter. Stir till well blended. Add sour cream and knead several minutes. Roll out on floured board to ¼" thickness. Cut with round biscuit cutter. Place a spoonful of filling in center and close tightly by pinching into oblong shape. Brush with egg yolk and bake at 400° for 15-30 minutes or until crust is browned. Makes 8 tarts.
A bachelor recommended recipe. Easy and tasty!
DARNED IF I KNOW CASSEROLE
Half a ring baloney or hot dogs, sliced ½" thick
1 can green beans, drained
1 can sliced potatoes, drained
1 med. onion, sliced
¼ cup vinegar
½ cup vegetable oil
salt and pepper, to taste
Combine ingredients and bake at 350° for 30 minutes. Double batch can be made. Brown meat if desired.
CORN OFF THE COB QUICHE
9" baked pie shell
3 medium ears of corn (1½ cups)
½ cup chopped onion
1 tbsp. butter
½ cup (2 ozs.) shredded cheddar cheese
6 eggs
1½ cups half & half or milk
1 tsp. seasoned salt
½ tsp. dry mustard
1/8 tsp. pepper
1/8 tsp. ground savory
Cook corn and remove from cob. In small saucepan, over medium heat, cook onion in butter till tender. DO NOT BROWN. Sprinkle onion, corn and cheese into pie shell. Beat together remaining ingredients and pour into shell. Bake at 375° for 35-40 minutes or till knife inserted into center comes out clean. Let stand 5 minutes before serving. Garnish with parsley sprigs.
BROCCOLI & CORN CASSEROLE
1 (10 oz.) pkg. frozen, chopped broccoli
1 egg, slightly beaten
1 (1 lb.) can creamed corn
1 tbsp. chopped onion
½ tsp. salt
½ tsp. pepper
3 tbsps. butter, melted
1 cup seasoned bread stuffing mix
Pour boiling water over broccoli and drain. Mix together next 5 ingredients. Melt butter and add to stuffing mix. Toss and reserve ¼ cup. Pour remaining stuffing mix into corn mixture. Mix and put in greased baking dish; top with reserved ¼ cup crumbs. Bake at 350° for 30-40 minutes.
ZUCCHINI PIZZA
Lightly salt 3½ cups, coarsely grated zucchini. Let stand 15 minutes, then squeeze out excess moisture.
Add to zucchini:
2 beaten eggs
1/3 cup flour
½ cup grated parmesan cheese
½ cup shredded mozzarella
salt & pepper, to taste
Mix together and spread into greased 9 x 13" dish. Bake at 350° for 20-25 minutes till firm and dry. Brush lightly with olive oil. Broil 5 minutes. Mix together 8 ozs. tomato sauce and ½ tsp. oregano. Spread over top. Extra cheese & meat may be added at this point. Bake 10-15 minutes, till crust is brown.
BOILED GREEN BEANS AND POLISH SAUSAGE
2 lbs. fresh green beans, snapped, cleaned and cut up
1 small onion, minced
1 tsp. salt
Place ingredients in large pan. Cover with water and bring to a boil, then reduce heat. Cut Polish sausage in 1½" pieces. Peel and quarter five potatoes. Add sausage & potatoes to pan with beans, onions, and salt. Cook till vegetables are done.
CUCUMBER SOUP
1½ qts. peeled and cubed potatoes
2 qts. peeled and cubed cucumbers
1 onion, cut up
Put in kettle and cover with water and bring to a boil. Add salt and pepper to taste. Boil till tender. Reduce heat and add 1 pint of half and half. Can be served either hot or cold.
Page 3 Top of Page
AUNT JANE'S VEGETABLE SALAD
1 head cauliflower flowerets
2 stalks broccoli, chopped
2 bunches green onions, chopped
1 green pepper, diced
Mix together and marinate several hours in:
1 cup mayonnaise
¼ cup French dressing
1 tbsp. sugar
1 tbsp. wine vinegar
½ cup sour cream
salt & pepper to taste
LAMB STEW WITH DUMPLINGS
2 lbs. breast of lamb, cut into 2" cubes
2 tbsps. margarine
3 cups hot water
salt & pepper to taste
¾ cup chopped white onion
3 med. carrots, quartered
2 tbsps. parsley. chopped
1 tbsp. green pepper, chopped
1 tsp. Worcestershire sauce
2 tbsps. flour
¼ cup cold water
Brown meat in margarine. Add hot water and seasoning. Cover and simmer for 90 minutes. Add vegetables, parsley and Worcestershire sauce. Thicken with flour and cold water Drop in dumplings. Cover and cook for 12 minutes.
LAMB KABOBS TERIYAKI
1½ lbs. American lamb. cut into ½" cubes
1 green pepper cut into eight 1" cubes
1 small onion, cut into eight 1" wedges
Marinade:
2/3 cup soy sauce
3 tbsps. oil
2 tbsps. brown sugar
2 tbsps. sliced green onion
2 tsps. ground ginger
2 cloves garlic, minced
Combine marinade ingredients, pour over lamb. Refrigerate, covered, for 4-6 hours. Alternate meat and vegetables on skewers. Grill 4-6" from heat source for 5-6 minutes on each side. Can also be broiled in oven, using your favorite vegetables. Serves 4.
TIP: HOW TO GET RID OF MOLES
Mix together:
3 oz. castor oil
2 oz. liquid detergent
½ bucket of warm water
Here is a recipe Open Line could add to the Bulletin each canning season and it would still be requested. If you are a new subscriber you will want to add this to your recipe collection of Open Line favorites.
FIRE & ICE TOMATOES
¾ cup vinegar
1½ tsps. celery salt
1½ tsps. mustard seed
½ tsp. sugar
1/8 tsp. red pepper
1/8 tsp. black pepper
2 tsps. salt ( or 1 tsp. salt & 1 tsp. garlic salt)
¼ cup cold water
Bring ingredients to a boil for 1 minute. While hot pour over
6 large firm tomatoes, peeled & quartered
1 large green pepper. sliced in strips
1 large red onion, sliced in rings
Cover and chill overnight. Add 1 sliced cucumber before serving. (Optional: sliced celery can also be added.)
PICKLED ONIONS
3 qts. small pickling onions
2/3 cup salt
1 1/3 cups sugar
3 tbsps. yellow mustard seed
2 tbsps. prepared horseradish
1½ qts. distilled white vinegar
dried hot red peppers
bay leaves
Place onions in large saucepan and cover with water. Boil and simmer for 2 minutes. Drain and plunge in cold water and peel. Place onions in large bowl and sprinkle with salt. Cover with cold water and let stand 12-18 hours. Drain and rinse well. Combine sugar, mustard seed, horseradish and vinegar in saucepan. Boil, cover and simmer for 15 minutes. Pack onions in hot canning jars leaving ¼" head space. Add one hot pepper and one bay leaf to each jar. Pour boiling liquid over onions. leaving ¼" head space. Cover with lids and bands. Process 10 minutes in boiling water bath. Remove and cover with cloth to cool. Let stand several weeks before serving. Makes 4 pints.
CUCUMBER DRESSING
2 tbsps. vinegar
4 tbsps. sour cream
4 tbsps. mayonnaise
4 tbsps. sugar
salt & pepper
Combine ingredients and pour over peeled and sliced cucumbers and onions. Refrigerate overnight.
Page 4 Top of Page
FROZEN COLE SLAW WITH COFFEE RICH
2 heads shredded cabbage
2 shredded carrots
1½ tbsps. canning salt
Let stand for 30 minutes and drain.
Combine:
1½ cups sugar
½ cup vinegar
2½ cups Miracle Whip, or less
1½ cups Coffee Rich
Pour over cabbage and freeze.
FREEZER BREAD & BUTTER PICKLES
7 cups cucumbers, sliced thin
1 cup chopped onion
2 tbsps. canning salt
Layer in glass bowl or non metal container with lid. Cover and weight down. DO NOT add water. Let stand overnight in refrigerator. Next morning, combine and DO NOT COOK 2 cups sugar, 1 cup white vinegar, and 1 tsp. celery seed. Dissolve, stirring till very smooth. Drain and rinse sliced cucumbers. Return to container, add syrup and refrigerate 24 more hours. Place in jars and freeze.
GELATIN FREEZER TOMATO JAM
2 cups tomatoes, peeled and cut up
2 cups sugar
Boil for 12 minutes. Mix in 1 small package of raspberry or strawberry gelatin. Pour into containers and freeze.
MY MOM'S TOMATO PRESERVES
3 cups chopped tomatoes
2 cups sugar
Boil 20 minutes, stirring often. Remove from heat and add 1 (3 oz.) box lemon gelatin. Mix well. Pour into hot sterilized jars and seal.
PEACH & CANTALOUPE CONSERVE
4 cups diced peaches
2 cups diced cantaloupe
4 lemons, juiced and rind
6 cups sugar
1 cup English walnuts, chopped
Peel and dice peaches and melon. Combine all ingredients except nuts. Cook till thick and clear Add nuts and pour into sterilized jars and seal.
YELLOW TOMATO PRESERVES
1 tbsp. pickling spice in cheesecloth bag
1 piece ginger root
4 cups sugar
2 lemons, thinly sliced
¾ cup water
1½ qts. small, firm yellow or green tomatoes, whole
Simmer spices, sugar, lemon and water 15 minutes. Add tomatoes, gently stirring occasionally, till clear. Cover and let stand 12-18 hours in a cool place. Heat to boil. Pack tomatoes into hot jars, leaving ¼ inch head space. Remove spice bag and boil 2-3 minutes longer (or more if too thin). Pour liquid into jars, leaving ¼ inch space. Cap and process in hot water bath.
RIPE TOMATO PRESERVES
2 lbs. tomatoes
8 cups sugar
2 lemons, thinly sliced
½ tsp. salt
½ tsp. whole cloves
½ tsp. whole allspice
1 stick cinnamon
½ tsp. ground ginger
Scald and skin tomatoes and cover with sugar and let stand overnight in a cool place. Drain and reserve liquid. Place lemon, salt and spices in bag and place in liquid. Boil 10 minutes. Add tomatoes. Cook till clear and thickened. Pineapple tidbits may be added with tomatoes. Remove spice bag. Place in jars.
GROUND CHERRY PRESERVES
6 cups ground cherries, husked
1 cup water
8 cups sugar
¼ cup lemon juice (2 lemons)
1½ cups light corn syrup
Put fruit in large kettle. add water and bring to a boil; simmer for 10 minutes. Add sugar, lemon juice and syrup. Bring to a boil again; simmer 30 minutes. Remove from heat and let cool overnight. Next morning, heat to boiling and pour into hot jars and seal. (if you prefer thicker preserves, refrigerate again overnight and heat to boiling in the morning. Then pour into hot jars and seal.)
GROUND CHERRY SAUCE
4 cups ground cherries
2 cups water
Combine, cover and cook till tender. Add 1-2 cups sugar. Add lemon or lemon juice to taste (optional). For thin sauce, cook till sugar is dissolved. For thick sauce, cook down till thick or add corn starch, tapioca, or unflavored gelatin.
A recipe that took us a while to receive, but once it was on file we had several requests for repeats.
Page 5 Top of Page
ORANGE SWEET DOUGH CINNAMON OR PINWHEEL ROLLS
2 pkgs. yeast
1 cup warm water
1 tbsp. grated orange peel
1 cup orange juice
½ cup sugar
2 tsps. salt
1 egg
¼ cup butter or margarine, softened
6½-7 cups flour
Dissolve yeast in warm water. Add ingredients as given up to the flour. Add 3 cups flour and beat for 30 seconds. Scrape bowl and beat 2½ minutes longer. Remove dough from bowl and work in remaining flour. Cover and let rise, 2 hours. Punch down and divide in half.
To Make Cinnamon Rolls: ¼ cup sugar, 2 tsps. cinnamon and 2 tbsps. butter. Roll out dough and spread with butter and sprinkle with sugar and cinnamon mixture. Bake 375° for 30 minutes.
To Make Pinwheels:
3 tbsps. butter
1 tbsp. grated orange peel
2 tbsps. orange juice and 1½ cups powdered sugar
Beat all the ingredients together and spread on a 9 x 15" rectangle of dough. Bake 375° for 30 minutes.
RASPBERRY STREUSEL MUFFINS
Batter:
1½ cups flour
¼ cup sugar
¼ cup dark brown sugar
2 tsps. baking powder
¼ tsp. salt
1 tsp. cinnamon
1 egg, lightly beaten
1 stick melted butter
½ cup milk
1¼ cups raspberries
1 tsp. grated lemon rind
Topping:
½ cup broken pecans
½ cup packed dark brown sugar
¼ cup flour
1 tsp. cinnamon
1 tsp. grated lemon rind
2 tbsps. melted butter
Preheat oven at 350°. Line muffin cups. Sift first 6 ingredients together in medium bowl; make a well in center. Mix egg, butter, and milk in well till combined. Stir in raspberry and lemon rind. Fill muffin cups 2/3 full. Combine topping ingredients, adding butter last and stir. Sprinkle over top of muffins. Bake 20-25 minutes.
PUMPKIN MUFFINS
1¾ cups flour
1/3 cup sugar
2½ tsps. baking powder
2 tsps. pumpkin pie spice
¾ tsp. salt
Mix dry ingredients in bowl and combine the following:
1 egg, beaten
½ cup pumpkin
¾ cup milk
1/3 cup oil
¼ cup raisins
¼ cup pecans, chopped
Stir till moist. Batter will be slightly lumpy. Pour into greased muffin tins. Bake for 20 minutes at 400°. DO NOT OVERBAKE!
APRICOT NUT BREAD
1 cup apricots, chopped (fresh or dry)
1 cup sugar
1 cup quick cooking oats
¾ cup whole wheat flour
¼ cup cake flour
2 tsps. baking powder
½ tsp. salt
½ tsp. baking soda
½ cup orange juice concentrate
1 egg
2 tbsps. vegetable oil
1 cup chopped walnuts or pecans
Place apricots in a small saucepan and add enough water to cover. Simmer till plump, about 15 minutes. Cool. Combine sugar and next 6 ingredients. Stir in orange juice concentrate, eggs and oil. Mix in nuts and apricots. Pour into greased 9 x 5 x 3" pan. Bake in preheated 350° oven for 1 hour. Cool on wire rack. Dust with powdered sugar.
NO BAKE, FRESH BLUEBERRY PIE
One 9" baked pie shell
5 cups blueberries, rinsed, drained and dried on paper towels
Place 4 cups blueberries in pie shell and reserve 1 cup for glaze.
Glaze:
1 cup blueberries
¾ cup water
¾ cup sugar
1 tsp. grated lemon rind
Bring to a boil. In a separate bowl, combine 3 tbsps. corn starch with ¼ cup sugar. Add ¼ cup water. Combine with glaze mixture and cook 1-2 minutes till thickens. Cool 15-20 minutes, stirring occasionally. Drizzle over blueberries in shell and cut in with knife tip. Refrigerate and serve with whipped cream.
Page 6 Top of Page
MISSISSIPPI PEACH PIE
1 9" unbaked pie crust
4 cups fresh sliced peaches
½ cup sugar
2 tbsps. Minute Tapioca
1 tsp. lemon juice
½ cup flour
¼ cup brown sugar
¼ cup butter or margarine
½ cup chopped pecans
nutmeg & cinnamon, to taste
Combine white sugar, peaches, tapioca and lemon juice and let stand for 15 minutes. Combine flour, brown sugar, pecans and seasonings. Cut in butter till crumbly. Put ½ of pecan mixture in bottom of crust; cover with peaches. Top with remaining pecan mixture. Bake at 450° for 10 minutes, reduce heat to 350° for 20 minutes more. Serve with whipped cream.
PEACH NUT PIE
9" graham cracker crust
2 cups sliced, fresh peaches
¼ cup chopped Maraschino cherries
½ pt, whipping cream
1/3 cup powdered sugar
¼ cup chopped walnuts
10 marshmallows, cut into small pieces
¼ cup orange juice
Soak marshmallows in orange juice. Place peaches in pie shell. Whip cream and fold in cherries, sugar, nuts and marshmallow mixture. Pour over peaches. Chill for 2 hours.
ZUCCHINI CRISP
Filling:
6½-8 cups zucchini, peeled, seeded and cut into slices
2/3 cup lemon juice
1 cup sugar
¾ tsp. ground cinnamon
Place zucchini in saucepan, add lemon juice and cook till tender. Add sugar and cinnamon, stir and remove from heat. Cool.
Crust:
3 cups flour
½ tsp. salt
1½ cups sugar
2 sticks margarine
Combine flour, salt and sugar. Cut in margarine till crumbly. Press 2/3 of the crumb mixture into a 9 x 13" pan. Bake in preheated oven at 350° for 10 minutes. Mix into remaining crumbs, 1/3 cup brown sugar, and 1 tsp. ground cinnamon. Pour zucchini mixture over baked crust. Sprinkle crumb mixture over top. Bake for 30-40 minutes for 350° till golden brown and bubbly.
PEACH DESSERT
Crust:
¾ cup butter or margarine
2 egg yolks or 1 whole beaten egg
1¼ cups flour
1 tsp. sugar
¼ tsp. salt
1 tsp. vanilla
Mix together and put into greased 9 x 13" pan, going up the sides ½ inch.
Filling:
6 cups peaches
2¼ cups sugar
6 tbsps. tapioca
Mix together and pour into crust.
Topping:
2 eggs, beaten
½ cup cream or milk
2 tbsps. sugar
Mix together and pour over peach mixture. Bake at 350-375° for 50-60 minutes.
PEACH POUND CAKE
1 cup butter or margarine, softened
3 cups sugar
6 eggs
3 cups all purpose flour
¼ tsp. baking powder
¼ tsp. salt
2 cups peeled, chopped fresh peaches
½ cup sour cream
1 tsp. vanilla
1 tsp. almond extract
Cream butter, add vanilla and extract gradually. Add sugar and beat till well mixed. Add eggs, two at a time, beating well each time. Combine flour, soda and salt. Combine peaches and sour cream. Add flour mixture alternately with peach mixture to cream mixture, mixing till just blended each time. Pour into greased, floured 10" tube pan. Bake at 350° for 1 hour and 10 minutes. or till it tests done, Cool in pan for 20 minutes. Remove to wire rack to cool completely.
DATE MUFFINS
2 cups sifted flour
2 tsps. baking powder
2 tbsps. sugar
½ tsp. salt
1 egg, well beaten
1 cup milk
4 tbsps. melted butter or margarine
2/3 cup dates, cut up
Sift together flour and dry ingredients. Drop dates into mixture. Combine milk, egg and butter. Beat till moistened. Add dates and dry ingredients. Grease muffin tins and fill 2 3 full. Bake at 425° for 25 minutes.
Page 7 Top of Page
"GOOD FOR YOU" FROM ST. LUKE'S HOSPITAL
KOHLRABI AND COUSCOUS
1 med. kohlrabi (about 9 ozs.)
2 med. carrots
2 tbsps. water
½ cup chicken broth
1/3 cup quick cooking couscous
2 tbsps. grated Parmesan cheese
Remove and discard the leaves, stems and woody tops from kohlrabi. Peel and cut kohlrabi into ½ inch cubes. Thinly slice carrots. Place kohlrabi. carrots, and water in 1½ qt. microwave safe casserole. Micro cook, covered, on 100% power (high) for 6-8 minutes or till vegetables are tender, rotating dish after 3 minutes. Drain and set aside. In the same casserole, combine chicken broth and couscous. Cook, covered. on high for 2-3 minutes or till broth is absorbed. Add kohlrabi mixture and Parmesan cheese to couscous mixture in casserole. Toss lightly till mixed. Cook, covered, on high about 1 minute or till heated through. Makes 6 servings. Calories per serving: 53.
HOT GREEN BEAN VINAIGRETTE
¾ lb. fresh green beans
1/3 cup chopped green onion
2 tbsps. snipped parsley
2 cloves garlic, minced
1 tbsp. red wine vinegar
1 tsp. Dijon style mustard
2 tbsps. cooking oil
Cook beans & onion, covered in a small amount of salted water for 5-6 minutes or until crisp tender Drain vegetables well and return to saucepan.
For Sauce: In mixing bowl; combine parsley, garlic, vinegar and mustard. Gradually add oil, stirring mixture with a whisk. Add dash of salt and a dash of pepper; stir till well blended. Pour sauce over vegetables in saucepan and heat through. Makes 4-6 servings.
CHILE SAUCE FOR CANNING
9 large tomatoes, chopped
2 red peppers, chopped
1 large onion. chopped
1 tbsp. salt
½ tsp. celery salt
½ cup vinegar
Cook slowly for 3 hours. Before removing from heat, add 1 cup sugar and ½ tsp. cinnamon. Put in jars and seal.
FRENCH BREAD PIZZA PRIMAVERA
1 long thin loaf French or Italian bread
1 small onion, sliced
1 green bell pepper. seeded & diced
½ cup sliced fresh mushrooms
½ cup diced zucchini
1 clove garlic, minced (optional)
1½ cups plain tomato sauce
1 cup shredded part skim mozzarella cheese
4 tbsps. grated sharp Parmesan cheese (optional) salt, pepper, oregano, basil & red pepper flakes, to taste
Cut the bread in half lengthwise, separating the top from the bottom. Pull out and discard the doughy center, leaving only the crust. Layer the vegetables in the hollowed out bread halves. Sprinkle with garlic. it desired, and spoon on the tomato sauce, Sprinkle with mozzarella, Parmesan if using, and seasonings. Place on a shallow, non stick baking pan or sheet sprayed with cooking spray. Bake uncovered, in a preheated 425° oven for 20 minutes. To serve, slice each shell in half. Makes 4 main course servings, 290 calories each: optional ingredients add 25 calories per serving.
SUPER TACO DIP
2 tomatoes, chopped & drained (more is better).
4 chopped green onions or 1 sweet Vidalia onion
½ cup chopped black olives
1 (4 oz.) can chopped green chiles
2 tbsps. oil
1½ tbsps. red wine vinegar
1 tsp. garlic powder
Mix oil, vinegar and garlic powder together and pour over other ingredients. Chill in refrigerator several hours. Serve with chips; also good as a topping for cold roast beef sandwiches or hamburgers ... drain first.
HOT SALSA
6 hot chilies
1 lge. green pepper
5 med. to lge. tomatoes, peeled
½ med. sized onion, grated
1 clove garlic, pressed
½ tsp. dried leaf oregano, crushed
¼-½ tsp. salt
Dice unpeeled chilies, green pepper and tomatoes to ¼ inch pieces. Drain tomatoes. Combine chilies, pepper and tomatoes and then combine with onion, garlic, oregano and salt. Refrigerate, covered for 24 hours. Makes 4 cups.
Page 8 Top of Page
MUD & SNOW TIRE CAKE
Prepare a German chocolate pudding cake per package directions. While still warm. poke holes in top of cake with a fork. Pour a slightly warmed can of Eagle sweetened condensed milk over top of cake. Spread 3¼ jar of Mrs. Richardson's Caramel Fudge Ice Cream Topping onto cake. Spread a 12 oz. carton whipped topping over cake. Top with three crushed Heath bars.
BELGIAN WAFFLES
1 pkg. dry yeast
2 cups lukewarm water
4 eggs, separated
1 tsp. vanilla
2½ cups sifted flour
½ tsp. salt
1 tbsp. sugar
½ cup melted butter
Sprinkle yeast over warm water. Beat egg yolks and add to yeast mixture with vanilla. Sift together flour. salt and sugar. Add to liquid ingredients. Stir in butter and combine thoroughly. Beat egg whites till stiff; carefully fold into batter. Let mixture stand in warm place for 45 minutes or until mixture doubles in bulk. Use 7/8 cup per waffle. Makes 5 waffles.
SAUTÉED JULIENNE CUCUMBERS
Peel 2 large cucumbers and cut in half lengthwise. Take out seeds and cut into Julienne strips (about the size of a matchstick, only longer). Put in bowl, and sprinkle with salt, sugar and wine vinegar. Let stand for 10 minutes, then drain. Heat 2 tbsps. butter to bubbling. add cucumbers and toss. sauté over moderate heat 2 or 3 minutes, till tender, but crunchy. Season to taste. Can add mint, dill or parsley. Fold in ½ cup of heavy cream: boil over high heat till reduced and thickened.
POPSICKLES
(FROM 1969 COOKBOOK)
1 (3 oz.) package gelatin. any flavor
1 package Kool-Aid, any flavor
1 cup sugar
2 cups boiling water
2 cups cold water
Dissolve first three ingredients in boiling water. Add cold water and pour into molds or ice cub trays. Freeze.
CHOCOLATE MALT ICE CREAM
4 eggs, beaten
2¼ cups, sugar
½ tsp. salt
1 tsp. vanilla
4 cartons Half and Half
1 carton whipping cream
1 large can Hershey's Chocolate Syrup
5 tbsps. malt
Combine ingredients and refrigerate.
This issue of the Bulletin always seems to wrap up the end of summer and take us into a new season. Canning to casseroles and some muffin and preserve recipes to be added to your collection.
You will want to try both recipes from the "Chuck Challenge". We learned that grilling from the back of a truck can be a lot of fun on a warm summer day Congratulations to WMT Farm Director Rich Balvanz for his winning recipe.
Please find included your order form for holiday gift giving of "The Best of the Open Line" Bulletin. Please note the deadline. Gift cards will be mailed around the 15th of December
The Open Line
WMT RADIO
PO. BOX 2147
CEDAR RAPIDS. IOWA b2406
365-0600 1-800-332-5401
THE WMT OPEN LINE
Six issues per year published bi-monthly by the WMT
Stations. Inc. PO Box 2147 Cedar Rapids IA 52406
Subscription Rate $5 00 per year
Sharon Reeves, Open Line Co-Host and Editor
Dwayne Schmidt Open Line Co-Host
Click here to go to the next month of 1991.