THE BEST OF THE OPEN LINE BULLETIN
Page 1 Top of Page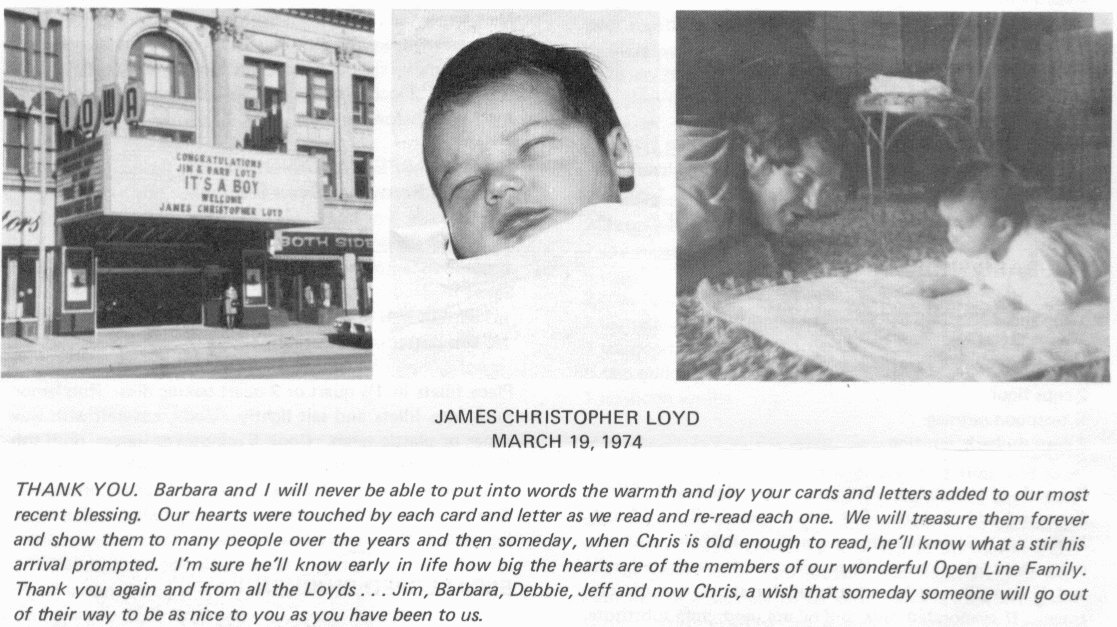 BLUE OX STRAWBERRY PIE
For crust, combine 1 cup flour, 2 tablespoons granulated sugar or 3½ tablespoons powdered sugar and 1 stick of margarine. Pat into a 9 inch pie tin and bake at 350° for 20 minutes.
For filling, stir ½ cup sugar, 1 tablespoon cornstarch and ¼ teaspoon salt into 2 cups cord water. Cook. stirring constantly until clear and thick and then add and stir in a 3 ounce package of strawberry Jello. Mix until dissolved. Set aside until cool and partially set. Then take any amount of fresh or frozen whole unsweetened strawberries and fill pie shell. If using frozen berries, thaw first and drain. Pour filling over strawberries. Chill at least 4 hours and top with whipped cream before serving.
When making rolled cookies, roll them out on powdered sugar instead of flour and they won't get tough. Makes them a little sweeter, too.
FORTY-YEAR OLD ORANGE FRUITCAKE
1 cup sugar
½ cup butter
2 eggs
¾ cup sour milk
2 cups flour
1 teaspoon soda
1 cup raisins
1 orange
½ cup sugar
Cream sugar and butter thoroughly. Add well beaten eggs. Squeeze juice from orange and set juice aside. Put rind and raisins through a food chopper 3 times. Sift flour together with soda 2 times. Add flour, raisins and orange rind, alternately with sour milk, to creamed mixture. Bake in a 350° oven using a 9 by 13 inch pan. Then combine juice and ½ cup sugar and pour over hot cake. (No baking time given.)
Page 2 Top of Page
MOCK MIRACLE WHIP
¼ cup sugar
½ cup flour
1½ cups water
Cook over low heat to boiling. Cook one minute.
3 egg yolks
3 tablespoons vinegar
¼ cup lemon juice
1½ teaspoons salt
¾ teaspoon dry mustard
Few grains cayenne pepper
Put into blender. Add the hot mixture and blend well. With mixture still being blended, gradually add 1 cup oil and blend well. (Mrs. L. J. Boll, Gladbrook, Iowa)
RHUBARB SHORTCAKE
1 cup sugar
1 cup sour cream
1 teaspoon soda
2 cups flour
¼ teaspoon nutmeg
2 cups rhubarb, cut fine
Put soda in sour cream. Add sugar and blend well. Stir in flour and add rhubarb. Put into a greased 7 by 11 inch baking pan. Sprinkle nutmeg over top. Bake in moderate oven about 25 minutes. Note: ¾ cup of evaporated milk and ¼ cup oil may be substituted for the 1 cup of sour cream. If evaporated milk and oil are used, then substitute 2 teaspoons baking powder for the 1 teaspoon soda.
BANANA SPLIT DESSERT
Butter the bottom of a 9 by 13 inch pan, and make up your favorite graham cracker crust and press in pan and chill till firm. Do not bake. In top of double boiler, combine:
1 cup chocolate chips
½ cup butter
2 cups powdered sugar, not sifted
1½ cups evaporated milk
1 teaspoon vanilla
Cook for 8 minutes, stirring constantly. Remove from fire and cool till cold. Slice bananas over crust. Next put a layer of ½ gallon Neapolitan Ice Cream (or your favorite flavor) and top with chocolate mixture. Cover and freeze. (Helen Wayne, Nora Springs, Iowa)
RADAR RANGE QUICK AND EASY FUDGE
1 box powdered sugar (one pound)
½ cup cocoa
1 stick margarine
¼ cup milk
½ cup chopped nuts
1 tablespoon vanilla
Melt sugar, cocoa and margarine in a glass bowl in your microwave oven for 2 minutes. Remove from oven and pour in milk, chopped nuts and vanilla. Stir well. Put in 8 by 8 by 2 inch dish. Freeze for 30 minutes or refrigerate for 1 hour before serving.
RED SNAPPER AMANDINE
(Litton Microwave Oven Recipe)
1 pound fresh or frozen red snapper fillets, thawed
1 teaspoon lemon juice
Salt
1/3 cup slivered or sliced almonds
1/3 cup butter or margarine
Place fillets in 1½ quart or 2 quart baking dish. Rub lemon juice into fillets and salt lightly. Cook, covered with wax paper or plastic wrap. Cook 5 minutes or longer, until fish flakes easily. Let stand, covered, while making sauce. In 1 cup measure or bowl, cook lemons and butter, uncovered, 4 minutes or until light brown, stirring twice during cooking period. Serve sauce over fillets.
ESCALLOPED CHICKEN
¼ cup butter
1 cup chicken broth
1 quart bread cubes
3 or 4 beaten eggs
1 tablespoon chopped onion
1 cup milk
1 quart cubed chicken
Salt and pepper to taste
Cook onions in butter until tender but not brown. Mix all ingredients and put in greased 9 by 13 inch pan. Cover with lid or foil for first half of baking time. Bake at 350° for 1 hour.
FROZEN MINT DESSERT: Mix 1 large can crushed pineapple, 1 package lime Jello (used dry), and 1 package miniature marshmallows and let stand overnight. Next day, crush 1 package butter mints and add to 2 cups whipped cream or Dream Whip. Fold into first mixture and freeze.
Page 3 Top of Page
GREEN PEPPER STEAK
2 pounds flank, round or chuck beef steak, cut into ½ by 2 inch strips
1 clove garlic, crushed
½ teaspoon salt
¼ teaspoon ginger
¼ teaspoon sugar
½ cup water
¼ cup soy sauce
2 green peppers, cut into large chunks, 2 cups 1 pound can bean sprouts, drained (optional)
1 medium size onion, sliced (about 1 cup)
4 medium size tomatoes, quartered
1 tablespoon cornstarch
Brown meat on all sides over low heat. Add garlic, salt, pepper, ginger and sugar. Cover and cook on low heat for 20 minutes. Move meat to side. Add soy sauce, green peppers, bean sprouts and onion. Cook covered for 5 minutes. Move food away from center of skillet, add tomatoes and cook 5 minutes longer. Make a smooth paste of cornstarch and water, add to hot mixture and stir gently. Cook until thickened. Serve over hot cooked rice or plain. Makes 4 to 5 small servings. (Mrs. Larry Henkel, Wyoming, Iowa)
SMOTHERED STEAK
1½ pound round steak
1 large onion, sliced
2 carrots, sliced
1 tablespoon uncooked rice
2 tablespoons uncooked macaroni
1 tablespoon catsup
1 cup water
Salt and pepper
Roll steak in flour and brown in fat. Put in large baking dish. Add rest of ingredients and mix catsup and water and pour over rest of ingredients. Bake at 350° for 1½ hours, covered or until done.
TAMALE PIE
1 tablespoon chili powder
1 can tomatoes
1 can whole kernel corn
1 large onion, chopped
¾ cup Mazola oil
1 cup cornmeal
1 cup milk
1 cup ripe olives
1 pound hamburger
Salt and pepper
Boil first five ingredients together for 20 minutes. Combine with remaining ingredients and bake 1 hour at 350°. (Edna Mae Fagner, Lime Springs, Iowa)
SAUCY APPLE SWIRL BUNDT CAKE
Grease a 10 inch bundt pan. Then mix ¼ cup sugar and 1 tablespoon cinnamon. Use 1 tablespoon of that mixture to coat the pan. Reserve the remaining mixture for cake.
1 package yellow cake mix
1 2/3 cup applesauce
3 whole eggs
Beat together well. Pour half of the batter into the pan and sprinkle with sugar mixture. Pour in remaining batter. Bake at 350° for 35 to 45 minutes. Cool 15 minutes in pan, then invert on a serving plate.
MARBLE BUNDT CAKE
1/3 cup semi sweet chocolate pieces
2/3 cup butter or margarine
1 cup sugar
4 eggs
2 cups flour
3 teaspoons baking powder
1 teaspoon salt
½ cup milk
1 teaspoon vanilla
Melt chocolate over hot water. Cream butter or margarine and sugar thoroughly. Add eggs one at a time and beat after each addition. Add sifted dry ingredients alternately with milk and vanilla. Beat until smooth after each addition. Mix melted chocolate with 1/3 of the batter. Pour 1/3 of plain batter into greased and floured bundt pan. Pour half of chocolate batter onto plain. Finish with plain batter. With a knife, cut a zigzag pattern through the batter. Bake 35 to 40 minutes at 350°. Sift powdered sugar lightly over top when done.
SOUR CREAM COFFEE BUNDT CAKE
1 cup margarine or butter
3 eggs, separated
1 cup sugar
1 cup dairy sour cream
1¾ cups sifted floor
1 teaspoon baking soda
1 teaspoon baking powder
Cream shortening and sugar. Add egg yolks and sour cream. Beat until light and fluffy. Add flour, baking powder and baking soda. Beat egg whites until stiff. Fold in. Pour batter into greased and floured bundt pan. Sprinkle with topping made of ¼ cup sugar and ½ teaspoon cinnamon and ½ cup chopped nuts as an optional ingredient. Dot with extra butter and bake at 325° for 1 hour. Allow to cool in pan 15 minutes before turning out.
Page 4 Top of Page
MACADAMIA NUT CREAM PIE
1 cup fresh milk
¼ cup granulated sugar
¼ cup chopped macadamia nuts
Pinch of salt
A few drops of yellow food color
Vanilla
1/3 cup fresh milk
1 whole egg
1 ounce or 1 heaping tablespoon cornstarch
1/3 cup egg white
½ cup granulated sugar
Whipping Cream
Additional chopped macadamia nuts
Combine 1 cup fresh milk and ¼ cup granulated sugar in top of double boiler and bring to boil. Mix nuts, salt, food color and vanilla and add to boiling milk. Add 1/3 cup fresh milk, whole egg and cornstarch and continue boiling until thick. Whip egg white and ½ cup granulated sugar until stiff and fold carefully into mixture. Pour into baked pie shell and when cool, top with whipped cream and sprinkle with additional chopped macadamia nuts.
MACADAMIA NUT PIE
4 eggs, slightly beaten
¾ cup sugar
1½ cups light corn syrup
¼ teaspoon salt
1½ cups Hawaiian Macadamia nuts, chopped coarsely
1½ teaspoons vanilla
1 unbaked pie shell
Combine egg, sugar, syrup, nuts, salt and vanilla. Pour into shell and bake at 350° for about 10 minutes. Reduce temperature to 325° and bake 30 minutes more. Ring with whipped cream before serving. (Mrs. Anna Damilano, Westville, Illinois)
LEMON CHESS PIE
6 whole eggs
2 cups sugar
2 tablespoons cream
2 tablespoons melted butter
2 lemons, juice and grated rind
1 unbaked pie shell
Beat eggs, add sugar and cream and beat in melted butter, lemon juice and rind. Pour into unbaked pie shell. Bake at 400° for 10 minutes and then reduce heat to 325° and bake for 30 minutes.
VIOLET JAM
Place in a blender 1 cup of violet blossoms, packed lightly, ¾ cup water and 2 tablespoons lemon juice. Add 2 cups sugar to paste in blender and blend slowly. Stir 1 package of Sure Jell into ¾ cup water and bring to boil. Boil 1 minute. Pour into blender and blend all ingredients for 1 minute. Pour into jelly glasses and freeze when cool. Keeps for 3 weeks in refrigerator without freezing.
HOMEMADE HORSERADISH:
To one gallon freshly ground horseradish, add 1 tablespoon sugar, 1 teaspoon salt and vinegar to moisten.
For a greeting from Pat Nixon for those with 80th Birthdays or more or 25th anniversaries or more, allow three weeks for delivery and write to:
Mrs. Pat Nixon
Office of Correspondence
Room 402, East Wing
The White House
Washington, D C 20500
Click here to go to the next month of 1974.