THE BEST OF THE OPEN LINE BULLETIN
Page 1 Top of Page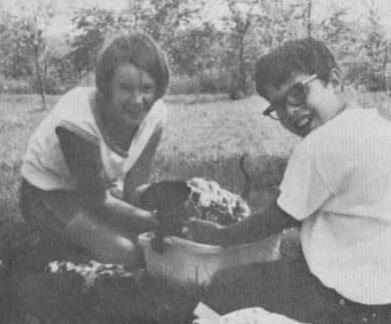 May I proudly present Miss Debbie Loyd, 14 years old and Master Jeff Loyd, 11 years of age. Pictured here administering a summer bath to a little black dog that Jeff calls "Doc", short for Boondocks I. Many of you noted a picture of the Loyd children was missed in the cookbook. Their mom and dad are very proud of both of them and I hope their picture brings a bright spot to your day as they have to our lives.
THE THIRD PRINTING OF THE BEST OF THE OPEN LINE COOKBOOK is now available to you. By mail, the book is $5.30 which includes postage and handling. If you pick the book up at the Paramount Building, Fifth Floor, Downtown Cedar Rapids, It's $5.00 per copy. Checks should be made payable to WMT Radio and orders addressed to OPEN LINE COOKBOOK, WMT RADIO, CEDAR RAPIDS, IOWA 52406. Incidentally, the Third Printing is complete with all corrections made.
PINTO BEAN PECAN PIE
1 pie shell, unbaked
2 cups Pinto beans, cooked and drained and mashed while hot
4 eggs beaten
1½ cups granulated sugar
1 cup brown sugar
1 teaspoon vanilla
1 stick butter, melted
1 cup milk
Stir in beans last with milk. Bake one hour at 350°.
EASY MACAROON COOKIE
1 pint orange sherbet
1 box (18½ ounce) white cake mix
1 to 2 tablespoons almond extract
8 packages angel flake coconut
Soften the sherbet and mix into cake mix. Add the extract and coconut and mix. Drop on greased cookie sheet and bake at 350° for 10 to 13 minutes. Makes about 72 macaroons.
FORGOTTEN COOKIE
2 egg whites
¾ cup sugar
1 teaspoon vanilla
1 cup chocolate chips
½ cup chopped nuts
Preheat the oven to 350°. Beat whites stiff, gradually adding sugar, vanilla, nuts and chocolate chips. Place by teaspoonful on foil covered cookie sheet. Place into preheated oven and immediately turn the oven off. Leave in the oven for at least 3 hours or even overnight.
GREEN FROSTING FOR BROWNIES: Mix 1 cup powdered sugar, 1 teaspoon soft butter, 1 1/3 tablespoons milk and 1/8 teaspoon peppermint extract. Then add green food coloring as desired.
Page 2 Top of Page
DATE NUT PUDDING
5 teaspoons butter
1 cup chopped dates
1½ teaspoons soda
1 cup boiling water
1½ cups flour
1 cup sugar
1 teaspoon vanilla
1 egg
Salt
1 cup nuts
1½ cups brown sugar
2 cups warm water
Mix 2 teaspoons of the butter, dates, soda and boiling water and let set until the soda dissolves. Let cool. Stir in flour, white sugar, vanilla, eggs, salt and nuts. Place in greased baking pan. Mix brown sugar, warm water and remaining butter. Pour over batter. Bake at 325° for 35 minutes in a 9 by 13 inch pan.
GERMAN TREASURE CAKE
Mix 1¼ cups Wesson oil, and 1¾ cups sugar until creamy. Add four eggs, one at a time. Sift and add 2 cups flour, 2 teaspoons soda, 2 teaspoons baking powder, 2 teaspoons cinnamon and ½ teaspoon salt. Mix well. Add ½ cup chopped pecans, 1 cup raisins can be added as an optional ingredient, and 3 cups grated carrots, packed. Mix well. Bake at 300° for 35 minutes in a 9 by 13 inch pan. It will freeze.
LEMONADE COOKIES
1 cup butter or margarine
1 cup sugar
2 eggs
3 cups sifted all purpose flour
1 teaspoon soda
1 can (6 ounce) frozen lemonade concentrate, thawed
sugar
Cream butter and 1 cup sugar together. Add eggs and beat until light and fluffy. Sift flour and soda together and add alternately to the cream mixture with ½ cup lemonade concentrate. Drop dough from a teaspoon two inches apart onto ungreased cookie sheet. Bake at 400° for 8 minutes or until light brown around the edges. Brush hot cookies with rest of lemonade and sprinkle with sugar. Cool on rack.
JANE CHADIMA'S UN-BOHEMIAN KOLACHES
1 four ounce package vanilla pudding mix
1½ cups milk
½ cup butter
2 envelopes of yeast
½ cup warm water
2 eggs
2 teaspoons salt
5 to 5½ cups flour
Cook the pudding according to directions using 1½ cups milk above. Remove from heat, stir in butter and cool to lukewarm, stirring occasionally. Dissolve yeast in warm water, stir into pudding. Beat in eggs and salt. Add flour to make moderately soft dough, turn onto floured surface. Knead 5 to 10 minutes. Place in greased bowl and let rise to double. Punch down. Make dough balls walnut size and place on greased cookie sheet 1½ inches apart. Punch down center and put in filling. Let rise. Bake at 375° for 15 minutes.
ELY PINEAPPLE PASTRY
3 cups flour
1 cup shortening
1 tablespoon sugar
1 egg
1/3 cup milk
1 teaspoon salt
Mix like pie crust. Divide in four parts, roll out, spread two parts on cookie sheet.
2 cups crushed pineapple, drained
1 can applesauce
1 cup sugar
Mix and spread on pastry on cookie sheet. Cover with other two pieces. Bake at 450° for 10 minutes, then reduce to 325° and bake for 25 minutes. Frost while warm.
ANOTHER COATING FOR BAKED CHICKEN
1½ cups flour
¼ teaspoon chili powder
¼ teaspoon paprika
¼ teaspoon poultry seasoning
¼ teaspoon curry powder
Shake together. Salt chicken and add pepper to taste.
Page 3 Top of Page
CHEROKEE CASSEROLE
1 pound ground beef, browned with ¾ cup chopped onions
1½ teaspoons salt
dash of pepper
1/8 teaspoon garlic powder
1/8 teaspoon thyme
1/8 teaspoon oregano
1 pound can tomatoes
1 can cream of mushroom soup
1 cup cooked rice
Mix browned ground beef and onions with remaining ingredients. Top with American cheese and sliced olives. Bake at 350° until bubbling.
PINEAPPLE SIDE DISH
1 can pineapple chunks
1 tablespoon sugar
1 tablespoon cornstarch
1 egg
1 cup miniature marshmallows
Beat the egg, mix with sugar and cornstarch and slowly add the pineapple juice. Place in a saucepan and cook over low heat, constantly stirring, cool it and add pineapple and marshmallows.
SPONGE CAKE
7 eggs, separated
1½ cups regular flour
¾ cup unsweetened pineapple juice
2 tablespoons sweetener
1 teaspoon vanilla extract
1 teaspoon pineapple extract
¾ teaspoon salt
1 ½ teaspoons baking powder
Combine egg yolks, flour, juice, sweetener, vanilla and pineapple extract. Beat at low speed until smooth. Beat whites with baking powder until stiff, but not dry. Fold through yolk mixture. Bake in a 10-inch ungreased tube pan at 350° for 55 to 60 minutes.
CUCUMBER SOUR CREAM DIP
1/3 cup sour cream
1½ tablespoons vinegar
1 sliced onion
1/8 teaspoon dry mustard
¼ medium cucumber, sliced
2 teaspoons sugar
¾ teaspoon salt
1/8 teaspoon pepper
Blend well or mix well for dip.
JERRY'S RABBIT
1 three pound rabbit, cut up. Season, dip in flour, then brown in pan. Add a cup of water, cover and simmer until meat is tender.
In a kettle, combine and heat together:
2½ cups cooked rice
1 can cream of celery soup
½ cup Eagle brand milk
1 cup chop suey vegetables
1 cup peas
1 teaspoon salt
1/8 teaspoon pepper
1 tablespoon butter
1 tablespoon diced onion, optional
Pour into buttered casserole, placing pieces of rabbit on top. From broth in skillet (about 1 cup) in which rabbit had been simmered, make a thick gravy and pour over all. Place in a 350° oven for ½ hour.
HASENPFEFFER
Cut up one 2½ to 3-pound rabbit. Cover with equal amounts of water and vinegar. Add ½ cup sugar, 1 medium onion sliced, 2 teaspoons salt, ¼ teaspoon pepper and 1 teaspoon pickling spice. Cover and let stand in the refrigerator for two days. Remove rabbit and dry. Dip in flour and brown in hot fat. Gradually add 1 cup vinegar water. Cover and simmer 1 hour or until tender. Remove meat to hot platter. Thicken liquid for gravy.
CLERMONT GRASSHOPPER PIE
Mix 2 cups cream filled chocolate cookies, crumbled, with 1/3 cup melted margarine or butter. Place in a 9-inch pie plate for the crust. Reserve a few crumbs for the topping.
Gradually add ¼ cup milk to 2 cups marshmallow creme (7 ounce jar) and blend. Add a few drops of peppermint extract and a few drops of green coloring. If you like, substitute ¼ cup green Creme de Menthe for milk, peppermint and coloring. Fold in 2 cups heavy cream whipped or 2 packages Dream Whip. Pour into crust and top with reserved crumbs. Place in freezer.
MEAT MARINADE: Mix equal parts of juice from sweet pickles and wine vinegar. Let meat set overnight.
Page 4 Top of Page
PRIZE-WINNING PANCAKES
1 egg, separated
1¼ cups milk
1 cup flour, sifted
¼ cup yellow cornmeal
2 teaspoons baking powder
1 tablespoon sugar
½ teaspoon salt
1 tablespoon melted butter
Beat egg yolk with 1/3 of the milk. Add dry ingredients sifted together alternately with rest of the milk. Add melted butter and fold in stiffly beaten egg whites. If sour
milk is used instead of sweet milk, use 1½ teaspoons baking powder and teaspoon baking soda. Makes 15 medium sized pancakes.
SPIDER CORN BREAD
1½ cups sifted flour
3½ teaspoons baking powder
3 tablespoons sugar
1 teaspoon salt
¾ cup cornmeal
1/3 cup shortening, melted
1 egg, well beaten
1 cup milk
Sift dry ingredients. Add cornmeal and mix. Combine melted shortening, egg and milk. Add flour mixture and blend. Pour into hot greased spider skillet. Bake at 400° for 25 to 30 minutes.
BUCKWHEAT CAKES
2 cups scalded milk
½ cup fine bread crumbs
½ teaspoon salt
¼ cake of yeast
½ cup lukewarm water
1¾ cups buckwheat flour
1 tablespoon molasses
¼ teaspoon soda
¼ cup lukewarm water
Let scalded milk and bread crumbs soak for 30 minutes. Add ½ teaspoon salt. Dissolve yeast in ½ cup lukewarm water. Add with buckwheat flour. Let rise overnight. Next morning dissolve soda in lukewarm water and add with molasses. Save ½ cup batter to start next batch, substituting for the yeast in the next batch.
EASY CHEEZY LEMON BAR
Combine 1 package lemon cake mix with ½ cup butter or margarine, melted, with 1 egg, slightly beaten. Mix with fork until moist. Pat in a 13 by 9-inch pan, greased on the bottom only. Blend 1 package lemon frosting mix and an 8-ounce package of softened cream cheese. Reserve ½ cup of this mixture To rest add 2 eggs and beat 3 to 5 minutes and spread over the cake mix. Bake at 350° for 30 to 40 minutes. Cool. Use the reserved ½ cup of the lemon frosting mix and cream cheese for frosting.
Click here to go to the next month of 1970.