THE BEST OF THE OPEN LINE BULLETIN
Page 1 Top of Page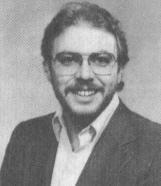 It's always nice to see April because even with the sometimes illogical twists and turns of Iowa weather it's an indication springtime weather is on the way. I think of spring in terms of new green grass, delicate early flowers, and fresh, clean air. My better half thinks of spring in terms of washing windows, washing cars, cutting grass, weeding and planting flowerbeds and gardens... and that's just the fun stuff! Speaking of fun stuff. . . what a treat to see so many Open Liners at our 21st Anniversary program that we held at the Stouffers ballroom in January. Nearly 400 folks enjoyed the afternoon getting reacquainted with the likes of Maggie Lee, Mary Huneke, Jim Loyd, and listening to a tape with Jim Rogers. But I'm the only one who got away with an autographed Italian toilet seat!
OATMEAL CINNAMON PUFFS
(from Ruth Mennen, Cedar Falls, Iowa)
1¼ cups milk, scalded
1 cup uncooked rolled oats
¼ cup fat
¼ cup sugar
1¼ teaspoons salt
1 package dry granular yeast
1 egg, beaten
2¾ to 3 cups sifted flour
¾ cup sugar
2 teaspoons cinnamon
½ cup melted butter
Pour 1 cup milk over oatmeal. Stir in fat, ¼ cup sugar and salt. Let stand until lukewarm. Cool the
remaining milk to near lukewarm; stir in yeast until dissolved. Add to oatmeal mixture. Stir in egg and
enough flour to make a soft dough. Turn onto lightly floured board and knead until smooth and elastic.
Avoid kneading in any extra flour. Form dough into a ball and place in greased bowl, turning to grease
top. Cover and let rise until doubled in size. Punch down; cover and let rise 10 minutes. Shape dough
into balls and lay in a 2½ x 1 ¼ inch greased muffin pan filling ½ full. Cover and let rise until
double. Bake at 375° until done, about 20 minutes. Meanwhile, mix ¾ cup sugar and cinnamon. While
rolls are still warm, roll in melted butter then in sugar/ cinnamon mixture. Makes 18-20 rolls.
STRAWBERRY CHIFFON PIE
(from Pearle Whitson)
1 tablespoon Knox gelatin, dissolved in ¼ cup cold water
½ cup water
1 cup sugar
Cook sugar and water until the sugar is dissolved, then stir in the gelatin mix. Add 2 cups drained strawberries, ¼ teaspoon salt and let cool until it starts to thicken. Then fold in one 8 ounce carton of Cool Whip. Pour in a graham cracker or butter crust and refrigerate 2 or 3 hours.
RHUBARB COBBLER
(from Mrs. Joe W. Novy, Swisher, Iowa)
Put 2 cups of rhubarb into a 9 x 13 inch baking dish. Sprinkle ½ cup sugar over the rhubarb.
Batter:
½ cup sugar
1 egg teaspoon salt
½ cup milk
1 cup flour
1 teaspoon baking powder
Beat above ingredients vigorously. Pour over the rhubarb. Bake in a moderate oven until nicely brown.
BAKED DO-NUTS
1/3 cup margarine
½ cup sugar
1 egg
Blend and add:
1½ cups flour
1 teaspoon baking powder
½ teaspoon salt
½ teaspoon nutmeg
½ cup milk
Fold soda, salt, nutmeg, and milk into the first mixture. Divide the dough into 16 pieces. Place in greased cupcake tins. Bake at 350° for 20-25 minutes. While the donuts are baking, melt 1 stick butter or margarine. Combine 1 teaspoon cinnamon and 1 cup sugar. Roll the donuts in the margarine, then in the sugar/cinnamon mixture.
Page 2 Top of Page
ARROZ CON POLLA
(low cal chicken)
1½ pounds cooked, skinned, boneless chicken
½ cups water
1 envelope instant chicken broth and seasoning mix
3 medium diced tomatoes
1 chili pepper or 1 pimento, finely diced
2 tablespoons dehydrated onion flakes
1 mashed garlic clove
1 teaspoon salt
½ teaspoon chili powder
¼ teaspoon saffron or turmeric or marigold petals
2 cups cooked, enriched rice
Dice the chicken and set aside. Make sauce combining the next 9 ingredients. Cook rapidly for 15 minutes. Turn off the heat and stir in the rice and chicken. Mix well and divide evenly into 4 dinner servings. (Optional: add a 16 ounce package of cooked peas and ½ teaspoon sherry extract)
CHICKEN BREAST
Cover the bottom of a baking dish with dried beef. Wrap each de-boned chicken breast with bacon. Place on top of the beef. Combine ½ pint sour cream, 1 can cream of mushroom soup, and stir together. Cover the breasts and sprinkle french onion soup mix on top. Bake at 325° for 3 hours. Cover with foil for the first 2 hours. Uncover for the last hour.
CHICKEN AND MAC SALAD
1 cup chopped and cooked chicken
5 boiled eggs, chopped
½ cup American or Velveeta cheese, cubed
1 cup chopped celery
1 small onion, chopped
1 small can peas, drained
1 pound shell macaroni, cooked
2 cups mayonnaise
1 teaspoon sugar
¼ teaspoon vinegar or pickle juice
¼ teaspoon
garlic salt
Mix dressing ingredients together and toss with remaining ingredients. Chill.
TUNA CASSEROLE
1 can tuna, drained
1 can cream of mushroom soup
2 eggs, beaten
½ cup chopped celery
½ small onion, finely chopped
salt and pepper to taste
½ cup instant rice, cooked
Mix well and place in a casserole and top with grated American cheese. Bake at 350° for 30 minutes,
RED BEANS AND RICE
1 pound fried red beans
2 tablespoons butter or oleo
2 medium onions, peeled and chopped
2 garlic cloves, crushed
½ teaspoon thyme
1 bay leaf
1¼ pounds ham bone
1¼ teaspoons salt
½ teaspoon hot pepper sauce
3 cups hot cooked rice
Wash beans and separate. Cover with water and soak overnight. Drain and add enough water to make 4 cups. In a large pot or dutch oven, melt butter, add onion, garlic, thyme, and bay leaf. Sauté until onions are tender. Add beans, ham bone, and 4 cups liquid to onions. Simmer, covered until beans are tender, 1½-2 hours. Add more water if necessary. During the last 30 minutes, remove ham bone, cut off meat. Return meat with salt and pepper sauce to pot. Mash 1 cup beans, place in the pot. Cook until beans are tender. Remove the bay leaf before serving. Serve over rice.
CORN BREAD SKILLET CASSEROLE
2 eggs, slightly beaten
1 cup yellow corn meal
2 teaspoons baking soda
1 teaspoon salt
1 (17 ounce) can cream style corn
1 cup milk
¼ cup vegetable oil
1 pound ground beef
2 cups (8 ounce) shredded cheddar cheese
1 large onion, chopped
2-4 jalapeno peppers, finely chopped
Combine the first 7 ingredients in a bowl and set aside. Cook the beef until browned and drain. Set aside. Pour half of the mix into a greased 10 ½ inch cast iron skillet. Sprinkle evenly with the ground beef. Top with cheese, onion, and peppers. Pour batter over the top. Bake at 350° for 45-50 minutes. Let stand 5
minutes.
BAKED CARROTS
3 cups cooked carrots
1 can cream of celery soup
1 cup Velveeta cheese
¼ cup dried bread crumbs
1 tablespoon melted butter
Cook the carrots until just done. Drain. Blend the soup and cheese, add to thecarrots. Mix butter with crumbs and sprinkle on top. Bake at 350° for 25-30 minutes.
Page 3 Top of Page
LOBSTER TAIL
(cooking instructions)
Bring pan of salted water to a boil. When it comes to a boil, add the lobster. When tail is done, the lobster
meat is opaque (snow white.) While cooking, in a separate saucepan, melt 1 stick of butter or margarine
with squeezed fresh lemon. After the tail is done, cool and cut under side of the tail to remove membrane.
Take fingers and lift meat out of the shell. Then turn it over and put back into the shell. With pastry
brush, cover the meat of lobster with melted butter. Put under the broiler for a few seconds to warm and
mingle butter mixture with the meat.
DRAWN BUTTER
2 tablespoons melted butter
Add 2 tablespoons flour
½ teaspoon salt
1/8 teaspoon pepper
Stir until smooth and add 1 cup hot water and stir constantly. Boil 5 minutes. Add 1 teaspoon lemon
juice and 2 tablespoons butter.
BROCCOLI POTATO CASSEROLE
1 (10 ounce) package chopped broccoli
1 can potatoes or 1 pound potatoes (boiled and chopped)
3 eggs, beaten
¾ cup cream
1 cup grated swiss cheese
½ cup grated parmesan cheese
3 tablespoons chopped chilies
2 tablespoons chopped parsley
1 cup cottage cheese
½ cup fresh bread crumbs
salt and pepper to taste
Combine the ingredients and stir. Place in a heavy buttered 9 x 13 inch pan. Spread evenly. Drizzle
butter over the top and bake at 350° for 50 minutes.
FRIED PASTA
3-2/3 cups vegetable spiral macaroni
Boiling water
½ cup Parmesan cheese
2 tablespoons seasoned salt, herb blends, garlic powder or Bar-B-Q blend
Cook the pasta in boiling water until just tender; drain off the water and rinse. Spread out on towels to
dry. Heat oil for deep frying. Add the macaroni, half a cup at a time. When the macaroni rises to the top
of the oil, turn it over and separate. Drain on paper towels. Blend cheese and seasonings. Toss with the
pasta and serve. Serves 8.
MEXICAN NACHO CASSEROLE
Brown ½ cup chopped onion and 1 pressed garlic clove in 1 tablespoon oil. Add 1
pound ground beef.
Add to that:
1 (28 ounce) can stewed tomatoes
1 package taco seasoning mix
1 (4 ounce) can diced green chilies
1 (2½ ounce) can chopped black olives
Grease an 11 x 14 inch baking dish. Crush one 9 ounce package nacho cheese chips and layer half of
them in the bottom of a dish. Add the meat mixture and ½ package of shredded mozzarella cheese and
2 cups sour cream. Put remaining chips on top. Bake at 350° for 30 minutes. Sprinkle with ½ cup
shredded cheddar cheese. Bake until melted and cool 5 minutes and serve.
PIZZA POTATOES
8 potatoes
2 medium onions
1 (3 ounce) package pepperoni slices
1 (8 ounce) package grated Mozzarella cheese
1 (10 ounce) can pizza sauce
Slice the potatoes and onions. Layer the potatoes, onions, pepperoni and cheese in a well oiled crock pot.
Repeat the layers. Pour the sauce over the top. Cover and cook on low 5-7 hours or on high for 4½
hours.
SWEET AND SOUR PORK CHOPS
For each pork chop:
salt and pepper to taste
1 tablespoon mustard
1 tablespoon brown sugar
Sprinkle each with flour to "seal." Place in foil lined baking dish. Add water to cover the bottom. Bake at
325° for 60 minutes.
MACARONI SALAD
(with sweetened condensed milk)
1 pound macaroni, cooked and rinsed
1 green pepper
1 medium sized onion, finely chopped
4 shredded carrots
1 cup white sugar
1 cup vinegar
1 can Eagle brand sweetened condensed milk
2 cups mayonnaise
1 teaspoon salt
1 teaspoon pepper
Combine the vegetables with the dressing and macaroni. Refrigerate overnight.
Page 4 Top of Page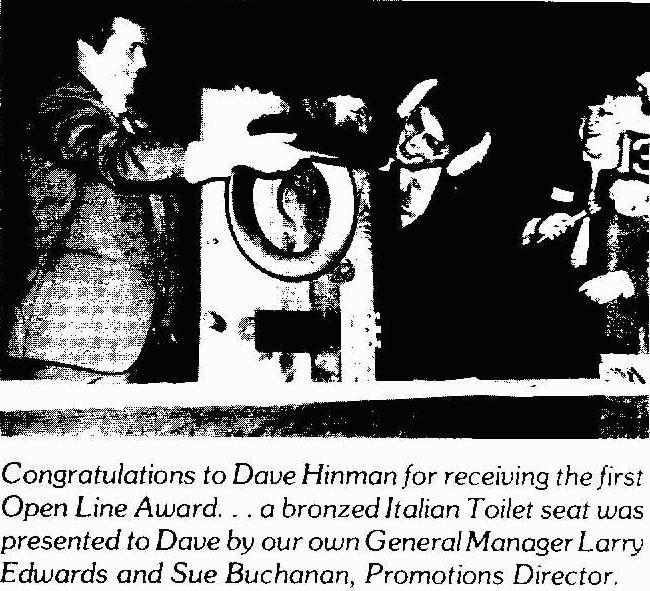 CREAM OF WATERCRESS SOUP
2 bunches watercress, washed and stemmed
2½ cups chopped zucchini
2 cups chopped leaks
2 cups chopped, peeled potatoes
1 cup chopped Boston lettuce
1 cup snipped parsley
½ cup sliced green onions, save the tops
2 teaspoons chicken bouillon granules
4 cups water
salt and pepper to taste
2 cups heavy cream or half and half
1 (8 ounce) carton sour cream
¼ cup chopped green onion tops
Combine the first 9 ingredients and simmer for 20 minutes or until the vegetables are tender. Pour ¼ of the mixture in a blender at-a-time. Blend until liquefied. Strain the liquid. Season to taste. Return to the pot and add the heavy cream, stir and heat. Use 1 spoonful sour cream per serving. Garnish with onion tops.
CAULIFLOWER SOUP
2 tablespoons butter
1 cup finely sliced celery
2 tablespoons minced onion
3 medium potatoes, peeled and thinly sliced
1 large head cauliflower
2 cups chicken broth
1 (13 ounce) can evaporated milk or 1½ cup half'n half
salt and pepper to taste
1 tablespoon chopped parsley
4 ounces grated sharp cheddar cheese
Melt butter in a saucepan. Add the onion and celery. Cook until the vegetables are transparent. Add potatoes and just enough water to cover. Bring to a boil and cook until tender. DO NOT DRAIN. Cut up cauliflower and cook until tender. Drain. Add the cooked cauliflower, chicken broth, milk and seasonings to potato mixture. Heat but do not boil. Add the cheese and stir until melted.
BLACK BEAN SOUP
1 pound dried, black beans
8 cups beef broth
2 (1-1½ pounds) smoked ham hocks
4 (4-6 onions) cups chopped onion
4 garlic cloves, minced
2 tablespoons wine vinegar
Wash beans and discard stones and shriveled beans. Cover the beans with water and soak overnight. The next day combine broth and ham hocks in 6 cups water and bring to a boil. Reduce the heat to low, simmer hocks 1½-2 hours. Add beans and cook 1 hour.
CRUSTY, HONEY WHOLE WHEAT BREAD
Heat 2 cups milk, 1/3 cup honey, 3 tablespoons butter to 120°.
Combine:
2 cups white flour
1 cup whole wheat flour
2 packages dry yeast
1 egg
1 tablespoon salt
Mix with dough hooks. Add warm milk mixture and mix on high for 3 minutes. Add 1½ cups whole
wheat flour, 1½ cups white flour. Knead for 3 minutes more, if the dough is too sticky knead in ½ cup white flour. Turn into a greased bowl and rotate to grease all sides. Let rise until double. Punch down and form into 2 loaves. Place in greased loaf pan. Cover and let rise until doubled in size. Bake at 375° for
10 minutes and 350° for 30-35 minutes.
NO KNEAD RYE BREAD
1 cup warm water
2-3 tablespoons sugar
2 tablespoons molasses
2 tablespoons shortening
2 teaspoons salt
Mix well. Dissolve 2 packages of yeast in 1 cup water. Add to the first mixture.
Sift together:
1½ cups rye flour
1½ cups white flour
Add all at once to the liquid, stir well. Mix in at least 2½ more cups white flour. (Very sticky dough) Let rise twice. Quickly shape into loaves, using flour on a plate. Makes 2 loaves. Bake at 350° for 40 minutes.
Page 5 Top of Page
PORK ROAST DIP
4 or 5 pounds pork roast (or pork roast leftovers)
1 small carrot
1-2 stalks celery
1-2 chopped apples
Dressing:
1 can Eagle Brand Milk
2 tablespoons prepared mustard
½ cup pickle relish
1 egg, beaten
¾-1 cup vinegar
Grind cooked, cooled meat. (Trim off fat.) Grind or chop celery, carrot, apples and add to meat. Mix
dressing in separate bowl. Add enough dressing to meat mixture to make it moist enough for intended use - sandwich filling, dip, cracker spread.
SHRIMP DIP
8 ounces cream cheese
8 ounces sour cream
1 package Good Seasons dry Italian dressing mix
4¼ ounce can shrimp, drained and chopped
Mix together well and serve.
GRAHAM CRACKER CRUST
16 graham crackers, crushed
1/3 cup melted butter
½ cup sugar
Mix and line the bottom of a pie pan.
CINNAMON BREAD
1 cup granulated sugar
¼ cup oil
1 egg
1 teaspoon vanilla
1 cup buttermilk or sour milk
Sift together:
2 cups flour
1 teaspoon baking soda
¼ teaspoon salt
¼ cup granulated sugar
2 teaspoons ground cinnamon
Combine sugar and oil. Add egg and vanilla; mix well. Add milk alternately with sifted dry ingredients. Mix well. Pour into a well greased and floured 9 5/8 x 5½ x 2¾ inch loaf pan (no smaller). Combine sugar/cinnamon mixture and sprinkle over the batter. Swirl into the batter (not to the bottom). Preheat the oven to 350° for 10 minutes and bake for 50-60 minutes.
FRENCH APPLE COFFEE CAKE
1 cup white sugar
1 cup brown sugar
2/3 cup sour milk
2 eggs
2½ cups all purpose flour
2 teaspoons baking soda
2 tablespoons cinnamon
½ teaspoon salt
1 can French apple pie filling
Mix ingredients as for a cake. Add pie filling last. Spread into a 9 x 13 inch pan.
Topping:
¼ cup white sugar
¼ cup brown sugar
½ teaspoon cinnamon
nuts (optional)
Sprinkle over the batter and bake at 350° for 40-50 minutes. While still warm pour ½ cup melted butter over the top.
NUTTY PUMPKIN BREAD PUDDING
2 slightly beaten egg yolks
1 cup canned pumpkin
½ cup packed brown sugar
2 tablespoons brandy (optional)
1 teaspoon ground cinnamon
½ teaspoon ground nutmeg
2 cups milk
4 cups whole wheat bread cubes
½ cup chopped pecans
½ cup chopped pitted dates
2 stiffly beaten egg whites
Combine the first 6 ingredients and stir in the milk. Fold in the bread cubes, nuts and dates. Fold in the whites. Turn into a 10 x 6 x 2 inch buttered dish. Bake at 325° for 45-50 minutes.
INDOOR SMORES
2/3 cup light corn syrup
2 tablespoon margarine
1 (11½ ounce) package milk chocolate morsels
1 teaspoon vanilla
1 (10 ounce) package Golden Grahams cereal
3 cups mini- marshmallows
Butter a 9 x 13 x 2 inch pan. In a 3 quart saucepan heat the first 3 ingredients to boiling, stir constantly. Remove from the heat. Stir in the vanilla. Pour over the cereal in a large mixing bowl. Toss quickly to coat. Fold in marshmallows 1 cup at-a-time. Press into a buttered pan. Let stand until firm (about 1 hour.) Cut into squares.
Page 6 Top of Page
FAMOUS CANDY BARS
¾ cup white sugar
¾ cup brown sugar
1½ cups Karo syrup
1¼ cups peanut butter
8 cups corn flakes
2 cups salted peanuts
2 cups chocolate chips
½ cup peanut butter
Boil sugars and syrup for 1 minute. Stir in 1½ cups peanut butter. Pour over corn flakes and peanuts. Press into cookie sheet. Melt chocolate chips and peanut butter together and spread over the mixture.
TWO TONE FUDGE
2 cups packed brown sugar
1 cup granulated sugar
1 cup evaporated milk
½ cup butter
1 (7 ounce) jar marshmallow cream
1 teaspoon vanilla
1 (6 ounce) package butterscotch pieces (about 1 cup)
1 cup coarsely chopped walnuts
1 (6 ounce) package semi-sweet real chocolate pieces
Combine the first 4 ingredients in a saucepan. Bring to a full boil and stir constantly over a moderate
heat. Cook 10 minutes, stirring occasionally. Remove from the heat and add marshmallow cream and
vanilla. Mix until smooth. To 2 cups of mixture add the butterscotch pieces and ½ cup walnuts. Blend
well and pour into a greased 9 inch square pan. To the remaining hot mix add chocolate pieces and
remaining nuts and blend well. Pour over the butterscotch mixture and chill.
CARAMEL CANDY COOKIES
1 package Kraft caramels
1/3 cup milk
2 cups flour
2 cups oatmeal
1½ cups packed brown sugar
1 teaspoon baking soda
½ teaspoon salt
1 egg
1 cup soft margarine
1 package semi-sweet chocolate chips
1 cup nuts
Preheat oven to 350°. Grease a 9 x 13 inch pan. Heat the first 2 ingredients over low heat and stir
constantly. Remove and set aside. Mix the next six ingredients in a large bowl. Stir in margarine until
crumbly. Place ½ of the mixture in a pan and bake for 10 minutes. Remove and sprinkle chocolate chips
and nuts over the top. Drizzle with the caramel mixture. Sprinkle the remaining crumbs on top. Bake at
350° for 20-25 minutes and cool for 30 minutes. Cut into bars.
CHOCOLATE CHIP COOKIES
(with chocolate instant pudding)
2¼ cups unsifted flour
1 teaspoon baking soda
1 cup butter or margarine, softened
¼ cup granulated sugar
¾ cup firmly packed light brown sugar
1 teaspoon vanilla
1 package chocolate instant pudding
2 eggs
1 (12 ounce) package chocolate chips
1 cup chopped nuts (optional)
Mix the flour with baking soda and set aside. Combine butter, sugars, vanilla and pudding and beat until
creamy. Beat in eggs and gradually add flour mixture. By hand, stir in the chips and nuts. Batter will be
stiff. Drop by teaspoonfuls on ungreased baking sheet. Bake at 350° - 375° for 8-10 minutes.
ANISE COOKIES
½ cup butter
½ cup sugar
1 egg, beaten
1 tablespoon sweet cream
1¾ cups sifted flour
1 tablespoon anise seed
¾ teaspoon double action baking powder
1/8 teaspoon salt
Cream butter and sugar. Beat in egg and cream, beating until light and fluffy. Stir in sifted ingredients and
anise seed. Refrigerate 2 hours (optional). Roll on a floured surface, cut and bake at 425° until done. Dip
each in lemon glaze.
Glaze:
2 cups powdered sugar
¼ teaspoon lemon extract
dash of salt
2 tablespoons light corn syrup
4½-5 tablespoons boiling water
PUDDING COOKIES
¾ cup Bisquick
1 package instant pudding mix (any 3 ounce flavor)
¼ cup cooking oil
1 egg
Mix until the dough forms a ball. Shape into balls with 1 teaspoon dough for each. Place on a greased
baking sheet. Flatten to 2 inch size with your hand. Bake at 350° for 8 minutes.
Page 7 Top of Page
SPICE COOKIES
1 cup raisins
½ cup shortening
1-1/3 cups packed brown sugar
1 egg
¼ cup milk
2¼ cups flour
1 teaspoon soda
1 teaspoon cinnamon
½ teaspoon salt
½ teaspoon cloves
½ teaspoon nutmeg
1 cup nutmeats
1 cup chopped apples with the peel
Cover the raisins with water and bring to a boil. Set aside. Cream sugar and shortening. Add egg and beat well. Combine the dry ingredients. Add alternately with ¼ cup milk. Chop apples and add with the walnuts and raisins (drained). Bake at 350° for 10 minutes.
APPLESAUCE COOKIES
¾ cup soft shortening
1 cup brown sugar
1 egg
½ cup applesauce
2½ cups sifted flour
½ teaspoon soda
½ teaspoon salt
¾ teaspoon cinnamon
¼ teaspoon cloves
1 cup seedless raisins
Cream shortening, sugar and egg. Stir in applesauce. Sift together dry ingredients; add raisins. Drop by the
teaspoonful onto a greased cookie sheet. Bake at 350° for 10-12 minutes. Make 4 dozen.
GOLDEN PUNCH
4 packages orange Kool-Aid
4 cups sugar
1 (46 ounce) can pineapple juice
1 - (46 ounce) can apricot nectar
1 large can frozen lemonade
7 quarts water
3 quarts ginger ale
1 pint pineapple sherbet, partially thawed
Combine ingredients leaving ginger ale and sherbet until just before serving.
LEMON BROWNIES
6 ounces lemon chips
¼ cup butter
1 cup sugar
2 eggs
1 cup flour
1 teaspoon baking powder
¾ teaspoon salt
½ cup chopped nuts
½ teaspoon lemon flavoring
Bake at 350° for 25 minutes in a 9 x 13 inch greased pan. Melt the chips and butter in a double boiler. Stir
in the sugar and let cool for 5 minutes. Add eggs and flavoring. Sift the dry ingredients, and mix well.
MORE LEMON BROWNIES
In a double boiler, over medium heat, melt 2½ squares almond bark and ¼ cup butter or margarine. Cool 5 minutes. Add grated rind and juice of 1 lemon with a few drops of yellow food coloring. Add 1 cup sugar and 2 slightly beaten eggs. Sift together 1 cup plus 1½ tablespoons flour, 1 teaspoon baking powder, ¾ teaspoon salt and add to the egg mixture. Add ½ cup chopped nuts (optional) and ½ teaspoon lemon extract (optional). Pour into a 9 x 13 inch pan. Bake at 350° for 25 minutes. Top with icing.
BIRD CAKE FOR FEEDING THE BIRDS
1 cup cornmeal (could be old or buggy)
1 cup oatmeal, dry
1 cup flour (old or buggy)
3 teaspoons dry milk powder or 1 cup skim milk
½ cup ground suet
½ teaspoon soda
½ cup dry bread crumbs or stale cake or dry cereal crumbs
Combine the ingredients and bake at 350° for 1 hour in a greased angel food cake pan. Hang it out on a tree limb or post for the birds to feed on.
FOR THE BIRDS
1 cup peanut butter
4 cups yellow or white corn meal
1 cup shortening
1 cup white flour
Mix well and put out for the birds.
Page 8 Top of Page
DARK CHOCOLATE OLD TIME CAKE 1917
½ cup butter
1½ cups sugar
1/3 cup molasses
2 eggs
1 cup sour milk
6 tablespoons cocoa
2 cups floor
Place in a bowl and beat 5 minutes. Into ½ cup boiling water, dissolve 1 scant teaspoon soda and add to the beaten mixture. Bake as usual.
TEXAS CHOCOLATE SHEET CAKE
Boil 2 sticks margarine, 1 cup water and 5 tablespoon cocoa. Sift 2 cups flour and 2 cups sugar Pour first
mixture into flour/sugar mixture: mix well. Add ½ cup buttermilk and 1 teaspoon soda, 1 teaspoon
vanilla, 2 beaten eggs. Mix Bake on cookie sheet 15 minutes at 400°.
Frosting:
Boil 1 stick margarine, 4 tablespoons cocoa, 6 tablespoons milk. Add ¾ pound powdered sugar, and as
much more as needed, 1 teaspoon vanilla, and chopped nuts (optional). Frost cake while warm.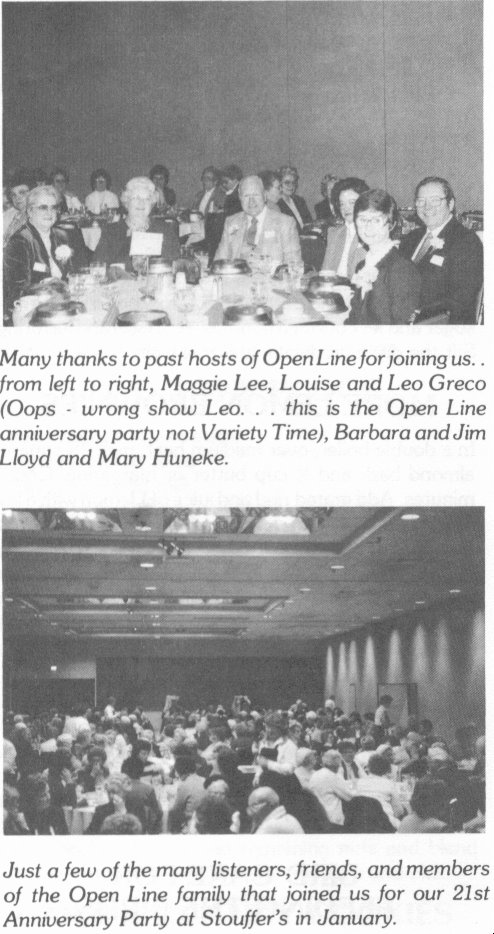 We hope you enjoyed the pictures from Open Line's 21st Anniversary party....a good time was had by
all. Dave and I hope to see you at our next outing, which will be announced on the air as we get closer to
the date.
Wishing all of you a bright, breezy spring!
S.K.R.
Click here to go to the next month of this bulletin.