THE BEST OF THE OPEN LINE BULLETIN
Page 1 Top of Page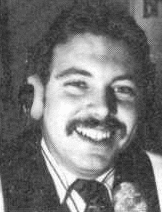 Dave Hinman Open Line Host from March/April 1981 to ?.
Ever since I came to Eastern Iowa, I have listened to the Open Line... and NEVER in my wildest dreams did I think I would have the opportunity to host the program and become the editor of the bulletin ... but, here I am on the air and in print, sharing with you the best from Eastern Iowa's kitchens. You've heard it before, but believe me, this program is great fun. My wish is that your soufflés are always fluffy, your cakes never fall, your toast never burns, and your pots and pans sparkle with a few light rubs with the dishrag.
As you know, Jerry Carr, the Ole' Cherokee, hosts Open Line on Saturdays ... and from time to time you'll find some of his recipes in the bulletin. Now ... let's get cookin'.
"If we gave awards, this would win the prize for the most wanted recipe!"
A DAZZLING BANANA SPLIT DESSERT
2 cups crushed vanilla wafers
1 stick of melted margarine
3-4 bananas
Two 10 ounce package frozen strawberries, thawed & drained
1 can sweetened, condensed milk
¼ cup lemon juice
One 20 ounce can crushed pineapple, well drained
One 8 ounce carton of Cool Whip
½ cup coconut
¼ cup chopped nuts
¼ cup maraschino cherries, cut up some
chocolate syrup or topping (optional)
Combine the crumbs and melted margarine. Press into a 9x13" pan. Chill for 1-2 hours. Slice the bananas on top of crust. Spoon the drained strawberries over the bananas. Combine the sweetened condensed milk and lemon juice. Mix well to thicken. Spoon over the strawberries. Next, spread on the crushed pineapple. Then, top with the Cool Whip. Sprinkle with coconut, and then the chopped nuts. Garnish with the chopped cherries. Refrigerate overnight. Cut into squares and drizzle with the chocolate syrup. Serves 18.
POR-KEYS
1 pound ground pork
1 pound ground turkey
½ envelope dry onion soup mix
½ cup non fat, dry milk
2 eggs
Mix well. Add enough bread or cracker crumbs to thicken mix. Make patties. Brown in fat in electric fry pan. Drain off fat & grease. In another bowl mix: Your choice of 1 can mushroom, celery, or cream of chicken soup with ½ cup milk. Pour soup and milk mix over patties. Make sure patties are covered and simmer for about 1 hour.
GINGER PORK
3 pounds boneless pork shoulder, cut into 1x3" pieces
8 small onions, quartered
Combine onions and meat. Sprinkle lightly with pepper.
Make a marinade as follows:
1 cup soy sauce
3 cups water
2 tablespoons ginger
2 teaspoons Accent or MSG (monosodium glutamate)
Mix together and pour over meat. Marinate at room temperature for 1 hour. Then, place a heavy skillet on medium heat. Will need:
3 tablespoons oil
3 tablespoons finely chopped garlic
Pour 1 tablespoon oil and 1 tablespoon garlic in hot skillet and sauté briefly. Add 1/3 of meat and onion mixture (use slotted spoon for this). Cook quickly over medium high heat, turning once (about 12-15 minutes). Stop cooking at the end of the meats "pink" stage. Remove to warm platter.
NOTE: Repeat final steps twice more, using 1/3 of oil and garlic with 1/3 of meat and onion mix each time.
Page 2 Top of Page
It seems our recipes took us on an early vacation to a lot of different countries.
CHILIES RELLENOS
1 cup half & half
2 eggs
1/3 cup flour
Three 4 ounce cans whole green chilies
½ pound Monterey Jack Cheese (shredded)
½ pound cheddar cheese (shredded).
One 8 Ounce can tomato sauce
Beat half & half with eggs and flour till smooth. Split open Chilies, remove seeds, and drain. Mix cheese and reserve ½ cup for topping. Make alternate layers of remaining cheese, chilies & egg mixture in a 1½ quart baking dish. Pour tomato sauce over top. Sprinkle with reserved cheese. Bake at 375° for 1 hour or until center is done.
POLYNESIAN KRAUT KABOBS
Drain 1 large can kraut, save juice. Drain can of chunk pineapple, saving juice. Cut a green pepper into dime sized pieces. Peel an onion, cut into small chunks. Cut cocktail wieners in half. Place chunks of wieners, pepper, onion, ½ chunk pineapple pieces on sticks (toothpicks will do).
SAUCE:
2 tablespoons kraut liquid
3 tablespoons brown sugar
2 tablespoons pineapple juice
½ cup ketchup
2 tablespoons soy sauce
Bring mix to boil, simmer for 10 minutes. Pour sauce on jelly roll pan, place kabobs in sauce. Bake at 300° for 20 minutes. Turn 2 or 3 times. Put kraut in a chaffing dish. Place kabobs on kraut. Pour sauce over top.
BOK-CHOY (Chinese Celery)
1 pound Bok Choy, cut in straight 2" pieces.
Mix ½ cup chicken broth and 1 teaspoon corn starch. Let set 1 minute.
Mix 1 teaspoon soy sauce, ½ teaspoon sugar, and 1/8 teaspoon MSG. Will need: 3 tablespoons peanut oil for frying, 1 scallion or ½ medium size dry onion (skinned). Heat skillet to 350°. Add oil and heat thoroughly. Fry scallion or onion until golden brown. Add Bok Choy, quick fry (3 minutes). Add broth, corn starch, soy sauce and MSG. Quick fry for 1 minute.
DUTCH BABY
To make in a 2-3 quart casserole:
¼ cup butter
3 eggs
¾ cup milk
¾ cup flour
3-4 quart casserole use:
1/3 cup butter
4 eggs
1 cup milk
1 cup flour
4-4½ quart casserole use:
½ cup butter
5 eggs
1¼ cups milk
1¼ cup flour
4½-5 quart casserole use:
½ cup butter
6 eggs
1½ cups milk
1½ cups flour
Put butter in casserole pan. Place in 425° oven. Then, put eggs in blender, whip at high speed for 1 minute. While still mixing, gradually pour in milk, slowly add flour and salt. Whip for an additional 30 seconds. Pour into casserole. Bake until fluffy (20-25 minutes).
DUTCH RAISIN SPICE CAKE
(Recipe is over 150 years old)
1 cup raisins, coarsely chopped
1 cup water
2 cups all purpose flour
1 teaspoon baking soda
¼ teaspoon salt
1 teaspoon ground cinnamon
½ teaspoon ground cloves
½ cup butter, softened
1¼ cups sugar
1 teaspoon vanilla
1 large egg
Line the bottom of 9 x 5 inch loaf pan with wax paper. In a small saucepan, bring the raisins and water to a boil. Cover and simmer for 5 minutes. Strain the raisins and reserve ½ cup of the liquid. Next, in a large bowl, cream the butter, sugar, and vanilla. Beat in the egg until well blended. Sift the dry ingredients together. Stir in half of the flour mixture with ¼ of the raisin liquid. Repeat until all is well mixed. Finally fold in the reserved raisins. Pour batter into loaf pan. Bake at 350° for 50-55 minutes. Cool on a wire rack for at least 10 minutes.
Page 3 Top of Page
PENNSYLVANIA DUTCH PIGS FEET
4 pigs feet, split
3 cups cider vinegar
1 onion, sliced
12 separate pepper corns
6 whole cloves (optional)
1 bay leaf
1 tablespoon salt
Cover with cold water, add vinegar and bring to a boil, skim, and add the rest. Simmer for 2 hours, cool in liquid.
RUSSIAN TEA CAKES
Mix 1 cup soft margarine with ½ cup sifted powdered sugar. Stir in:
1 teaspoon vanilla
2¼ cups sifted flour
¼ teaspoon salt
¾ cup finely chopped nuts (pecans or hickory)
Roll into walnut sized balls. Place on baking sheet. Bake until set, but NOT brown. 400° for 10-12 minutes. Roll in powdered sugar while still warm.
BEEF/SAUSAGE PATTIES
2 pounds ground beef
2 teaspoons salt
1 teaspoon sage
¾ teaspoon pepper
a dash of thyme
Sprinkle the salt, sage, pepper and thyme over the ground beef. Mix lightly, but thoroughly. Shape into a 2inch (diameter) roll. Wrap in wax paper and chill for several hours or overnight. Cut into 1½ inch slices. Cook slowly on a griddle or in a frying pan. Brown both sides.
SAUCE FOR COCKTAIL MEATBALLS OR WIENERS
16 ounces beer
1/3 pound brown sugar
½ bottle chili sauce
a few dehydrated onion flakes
Mix well.
TATER TOT CASSEROLE
Brown 1 pound ground beef with 1 small chopped onion, salt and pepper to taste. Drain. Place in 2½-3½ quart casserole dish. Pour 1 box tater tots on top of ground beef. Add 2 cans cream soup (celery, cheese, or mushroom). Cover and bake at 350° for 1 hour. Do not stir.
CHEESEY TUNA & RICE MUFFINETTES
2 cups cooked rice
1½ cups shredded cheese
One 6 ounce can tuna, drained & flaked
2 eggs, beaten
2 tablespoons milk
In hot rice, mix cheese and tuna. Combine eggs and milk and add to cheese/tuna mixture. Spray a muffin tin with Pam. Place mixture in muffin tin, and bake at 375° for 15-20 minutes. Sauce for muffinettes: Melt ¼ cup margarine over low heat. Remove from heat and add 1 tablespoon lemon juice.
SHRIMP CREOLE
½ cup butter or margarine
2 medium size onions, diced
1 cup diced celery
1 clove garlic, finely minced
½ pound fresh mushrooms, sliced
2 tablespoons flour
1 teaspoon salt
1/8 teaspoon pepper
¼ teaspoon paprika
½ teaspoon chili powder
2 drops tabasco sauce
1 #2 can tomatoes (2½ cups)
1 green pepper finely chopped
1 pound cooked, clean shrimp
some hot cooked rice
Preheat fry pan to 300°. Add butter (melted). Add onions, celery, garlic, and mushrooms. Sauté till tender, stirring occasionally. Blend in flour and seasonings. Add tomatoes, cover fry pan, close vent, simmer for 30 minutes stirring twice. Add green peppers and shrimp, heat, and serve over cooked rice.
CRUNCHY BRAN CORNBREAD
1½ cups whole bran wheat cereal (like All Bran, etc.)
1 cup all purpose flour
½ cup cornmeal
½ cup sugar
3 teaspoons baking powder
½ teaspoon salt
1 cup milk
½ cup oil (or shortening)
2 eggs
Preheat oven to 450°. Grease an 8 or 9 inch square (or 11 x 7 inch) pan. In a large bowl, combine all ingredients. Beat 2 minutes at medium speed. Pour the batter into greased pan. Bake at 450° for 25-35 minutes or until it tests done. Serve warm. Makes 9-12 squares. NOTE: for muffins, grease or line 15-18 muffin cups. Spoon batter into cups filling 2/3 full. Bake at 400° for 25-28 minutes
Page 4 Top of Page
HAM-IT-UP SOUP
1 Pound dried beans or lentils
2½ quarts of water
2 ham hocks or 1 meaty ham bone
1 cup chopped celery
1 carrot, chopped
Two 8 ounce cans tomato sauce (with tomato bits)
½ teaspoon salt
1 teaspoon Worcestershire sauce
½ teaspoon seasoned salt
¼ teaspoon pepper
Combine the ingredients in 1 large kettle or Dutch oven. Bring to a boil Reduce heat simmer, covered for 2 hours stirring occasionally. Remove skin and bone from ham and skim fat from broth Return meat to soup Serves 6-8
CHICKEN DUMPLING SOUP
One 3 pound chicken, cut
1½ quarts water
2 teaspoons salt
½ teaspoon pepper
1 bay leaf
3 carrot pared & cut into 1" pieces
2 potatoes, pared and cut into eighths
One 8 ounce can tomato Sauce
some minced onion
One 10 Ounce package frozen corn
2 cups Bisquick
¾ cup milk
2 tablespoons chopped parsley (optional)
Place the chicken in a kettle with a tightfitting lid. Add water salt, pepper and bay leaf Simmer covered for 1 hour or until tender. Remove chicken and skim fat from broth. Stir in the carrots, potatoes tomato sauce and onions. Simmer, covered for 1 hour. Meanwhile, remove skin and bones from chicken, leaving meat in large pieces. Add meat to broth, along with the corn. Next, combine the Bisquick with the milk and drop by tablespoons onto the soup. Sprinkle dumplings with parsley. Simmer, uncovered for 10 minutes. Cover and cook 10 minutes more. Makes 6 servings
AUNT RITA'S NEVER FAIL CHICKEN
¼ cup margarine
2 teaspoons seasoned pepper
2 cups instant mashed potato flakes or buds
1-2 pound broiler/fryer chicken
Melt margarine in small sauce pan. Stir in seasoned pepper. Put potato flakes on wax paper, and dip chicken in margarine and then in potato flakes, coating completely. Place in a well greased 9 x 13" baking dish. Bake at 375° for 1 hour or until done.
A sparklin' of green for St. Patrick's Day.
GREEN RICE
1 package chopped, cooked Broccoli
1 cup cooked rice (Minute)
¼ cup chopped onion
1 cup cubed Velveeta Cheese
1 cup milk
1 egg beaten
¼ cup salad oil
½ teaspoon salt
Combine all ingredients in. a greased casserole dish cover with crackers crumbs drizzle with melted butter. Bake at 350° for 35-40 minutes,
CUCUMBER SALAD
1 cucumber, peeled or grated
1 medium onion, grated
1 cup cottage cheese
1 cup salad dressing
1 tablespoon white or wine vinegar
1 tablespoon salt
1 large package lime jello
1 cup boiling water
Prepare jello with water, mix and cool slightly, add remaining ingredients. Stir and chill.
CUCUMBER CUTIE
Peel 1 cucumber using an apple core tool. Remove center and seeds.
Mix:
1 package creamed cheese
2 tablespoons chopped chives
2 teaspoons chopped parsley
¼ teaspoon mustard
enough mayonnaise to soften
Stuff cucumber with mixture. Wrap in wax paper. Put in refrigerator. When cool, slice thin and place on round cut outs of rye bread toasted and well buttered.
GARDEN CONFETTI
1 large can kraut, undrained
1 cup Chinese bean sprouts, undrained
1 cup white vinegar
2 cups white sugar
2 cups celery, cut small
2 cups chopped onions
1 green or red pepper, chopped
2 or 3 carrots, shredded
Combine sugar and vinegar. Boil 2 minutes. Cool, let stand. Mix other ingredients in large bowl. Pour vinegar mix over vegetables. Mix well. Cover and let stand at least 24 hours.
Page 5 Top of Page
OLD-FASHIONED GINGER CREAMS
2/3 cup shortening
1 cup brown sugar
1 cup molasses
2 eggs
1 cup warm water
1½ teaspoons soda
½ teaspoon cinnamon
1 teaspoon ginger
½ teaspoon salt
flour to make a stiff batter (about 4 cups)
some chopped nuts and raisins (optional)
Cream 1 shortening and sugar. Beat in the eggs. Add the molasses. Add the sifted, dry ingredients alternately with the water. Mix well. Spread 12" thick on two greased cookie sheets. Bake at 375° for about 15 minutes. Frost with a thin icing before cutting.
GRANOLA BARS
Preheat at oven to 350°. Spread in a large pan, 3½ cups of rolled oats. Toast in the oven for 20 minutes.
1 cup raisins or half raisins and half chocolate chips
1 cup chopped nuts
2/3 cup margarine
½ cup brown sugar
1/3 cup honey
1 egg
½ teaspoon vanilla
½ teaspoon salt
Cream the margarine and sugar. Add the honey and the egg. Mix the dry ingredients together with the Oatmeal. Add to the creamed mixture with the vanilla. Mix well. Spread into a 9 x 12 or 9 x 15 inch pan. Bake at 350° for 20 minutes.
JELLO PUDDING DESERT
1st Layer (crust):
1 cup flour
½ cup melted butter
½ cup chopped nuts
Mix and press into bottom of 9 x 13 " pan. Bake at 375° for 15 minutes. Cool.
2nd Layer:
In a bowl blend: 8 ounces creamed cheese, 1 cup powdered sugar, 2 cups Cool Whip. Pour over 1st layer.
3rd Layer:
2 packs instant pudding mix, 1 cup milk. Beat till thick. Pour over 2nd layer and top with 2 cups Cool Whip. Garnish with chocolate sprinkles.
QUICK STICKY BUNS
1¼ cups milk
¼ cup butter or margarine
3¼ cups all purpose flour
¼ cup sugar
1 teaspoon salt
2 packages dry yeast
1 egg
In a small saucepan, heat milk and butter until very (120°). Next, in a large bowl, combine the warm liquid, 2 cups of the flour, sugar, salt, yeast and egg. Beat 4 minutes at medium speed. By hand. stir in the remaining flour (to make a stiff dough). Cover and let rise until doubled in bulk (about 30-45 minutes). Bake at 375° for 12-15 minutes. Cool for 1-3 minutes before inverting the muffin tins.
TOPPING:
1 cup brown sugar
1 teaspoon cinnamon
¾ cup butter
2 tablespoons corn syrup
¾ cup chopped nuts (pecans, etc.)
TOASTED COCONUT DREAM DESSERT
1 cup flour
¼ cup brown sugar
½ cup margarine
1 cup coconut
1 small package sliced almonds
Mix well. Spread on cookie sheet. Brown at about 375° for 15 minutes. Stir occasionally while baking.
Prepare: 2 boxes vanilla pudding (regular not instant) with 3 cups milk. Let cool. Add 1 cup Cool Whip and mix. Put ¾ of coconut mix in a 9 x 9" pan. Spread pudding mix over it. Sprinkle on remaining coconut mix. Chill.
FRUIT COCKTAIL DESSERT
1 cup flour
1 cup white sugar
1 teaspoon soda
¼ teaspoon salt
1 egg
1 can fruit cocktail, well drained
½ cup brown sugar
½ cup chopped nuts
Sift the dry ingredients except the brown sugar together. Stir in the lightly beaten egg and the fruit cocktail. Mix well. Pour into a well greased 8 inch square pan. Sprinkle the top with the brown sugar and the nuts. Bake at 325° for 40-50 minutes. Serve with Cool Whip.
Page 6 Top of Page
ONE-BOWL CHOCOLATE CAKE
½ cup boiling water
2 squares chocolate
¼ cup shortening
1 cup flour
1 cup sugar
½ teaspoon salt
½ teaspoon soda
1 egg
¼ cup milk (or sour milk)
Dissolve the chocolate in the boiling water; add the shortening. Cool. Add the dry ingredients, eggs and milk. Beat until smooth. Bake in a greased and lightly floured 8 x 8" pan, at 350° for 35-40 minutes. Frost.
QUICK FROSTING:
1 square unsweetened chocolate
1 cup sugar
1/3 cup milk
¼ cup shortening
a pinch of salt
1 teaspoon vanilla
Boil all ingredients hard. Beat until thick. Pour over the cooled cake.
POPPY SEED CAKE WITH POPPY SEED FILLING & FROSTING
1 regular white cake mix. Prepare as directed adding 2 tablespoons oil. Mix in bowl 1 teaspoon vanilla and ½ can of poppy seed filling. Combine mixtures. Bake in greased and floured 9x13" pan at 350° for 45-50 minutes.
Frosting:
5 tablespoons flour in a saucepan and gradually stir in 1cup milk. Cook until thick. Remove from heat and cool till almost cold. Add 1 cup sugar, 1½ teaspoon vanilla, ½ cup margarine, ½ cup Crisco. Whip until creamy (makes plenty).
MAGGIE'S POPPY SEED CAKE
In a large bowl:
1 package butter brickle cake mix
4 eggs
1 cup hot water
¼ cup poppy seeds
1 package coconut cream instant pudding
¼ cup salad oil
¼ teaspoon coconut flavoring
Combine ingredients EXCEPT poppy seeds. Beat at low speed until light & fluffy. Fold in poppy seeds. Pour into the bundt pan. Bake at 350° for 35-40 minutes or until done.
"Not a new recipe to Open Line, but one that was popular. "
CRANBERRY STRUESEL BARS
1 cup flour
2 tablespoons sugar
½ teaspoon salt
3 teaspoons baking powder
1 tablespoon vegetable shortening
3 tablespoons butter or margarine
1 egg
2 tablespoons milk
1 package cranberries (fresh or frozen)
(12 or 16 ounce package), rinse and drain
1 package (3 ounce) raspberry jello
1 cup sugar
½ cup flour
¼ cup butter or margarine
Sift first four ingredients. Cut in shortening and butter until fine. Stir in egg and milk. Mix with fork until dough cleans the bowl. With floured fingers, pat dough into greased jellyroll pan. Top with raw cranberries. Sprinkle dry gelatin over cranberries. Crumble sugar, flour, and butter together. Sprinkle over cranberries. Bake at 350° for 40-50 minutes. Cool and cut.
APPLE DATE DREAM CAKE
2 cups sifted flour
1 cup sugar
1½ teaspoon baking soda
1 teaspoon salt
1 teaspoon cinnamon
½ teaspoon allspice
2 eggs
½ cup salad oil
1 teaspoon vanilla
1 cup chopped dates
One 20 ounce can apple pie filling
¼ cup chopped nuts
Sift the dry ingredients and set aside. Beat eggs, oil, vanilla in large bowl. Add pie filling, dates, nuts, and dry ingredients. Mix well. Pour into greased and floured 9 x 13" pan. Bake 40-45 minutes at 350°. Cool. Cut in squares. Serve with whipped cream if desired,
MOCK WHIPPING CREAM
1¼ tablespoons corn starch
1 tablespoon sugar
1 cup sweet milk
pinch of salt
1 teaspoon vanilla
2 egg whites
Cook corn starch, sugar, milk, salt & vanilla together till thick. Beat egg whites separately. Pour sauce over 1 egg white, beat a little at a time, and fold in other egg white and cool.
Page 7 Top of Page
A "leftover" holiday recipe we found in the notes
CHRISTMAS HONEY
Sift 2 cups flour
1 teaspoon soda
1 teaspoon salt
Cream ½ cup butter, 1 teaspoon vanilla, 1 teaspoon almond extract, 2/3 cup honey, beat until fluffy. Add 1 beaten egg, ¼ cup vinegar. Stir in dry ingredients. Blend well. Add ¼ cup candied fruit, ½ cup candied cherries, ½ cup coconut. Chill several hours. Use ¼ dough at a time (need dough cold). Make ¾ inch balls, place on greased cookie sheets 2 inches apart. Press with glass. Bake at 375° for 12 minutes.
PUMPKIN ICE CREAM
1½ cups graham cracker crumbs
¼ cup melted butter
½ cup sugar
Combine and press in 8 x 11 inch pan. Save ½ cup of this mixture.
1 quart softened vanilla ice cream
1 can cooked pumpkin
½ teaspoon cinnamon
¼ teaspoon ginger
¼ teaspoon nutmeg
½ cup brown sugar
Mix and pour over crumbs. Top with reserved crumbs. Freeze.
LO-CAL QUICHE
8 1 ounce slices of mozzarella cheese
6 eggs, beaten
½ teaspoon salt
½ cup plain, unsweetened yogurt
Topping: Shrimp (12 oz.), ham, or cooked ground beef
Preheat oven to 350°. Line round pie pan or quiche pan with 8 slices of cheese. Combine egg, yogurt, and salt. Mix together and pour into pan over cheese. Sprinkle with topping. Garnish with chopped green peppers, celery, mushrooms, etc. Bake for 25 minutes. Let stand for 5 minutes.
LO-CAL CHOCOLATE PIE
Mix together:
2 cups sour cream
2 tablespoons sugar
One (reg. size) package Instant Pudding mix
Pour into pie shell or graham cracker pie shell. Serve with whipped cream. Mint flavoring can be added for variety.
Variation: French vanilla pudding and ½ cup raisins.
BUTTON MACAROONS
1 egg, separated
1/3 cup sugar
1 teaspoon baking powder
1/8 teaspoon salt
¼ teaspoon vanilla
¾ cup quick oatmeal
½ cup coconut
1 tablespoon butter, melted
some candied red and green cherries, cut into slivers
Beat the egg white until foamy and doubled in volume, in a small bowl. Beat in 3 tablespoons sugar, one at a time, until the meringue stands in stiff peaks. Next, beat the egg yolk well (in a medium size bowl). Beat the remaining sugar into the egg yolk until like and fluffy. Next, stir in the baking powder, salt, vanilla, oatmeal, coconut and the melted butter. Finally, fold in the meringue. Drop by half teaspoonfuls (one inch apart) onto greased cookie sheets. Decorate each with colored, candied cherry slivers. Bake at 325° for 15 minutes or until firm and light golden brown. Cool on a wire rack. Makes about 5½ dozen.
APPLE FRUITCAKE
Cook 4 cups of pared, thin apple slices in 2-3 tablespoons water until tender. (Or you may use 3 cups thick applesauce.) Stir in 2 cups of sugar and 1 cup softened shortening (at least half butter). Mix well. Let stand overnight. The next morning, combine the following fruits in a large mixing bowl:
1 pound chopped dates
½ pound raisins (light and/or dark)
¼ pound candied red cherries
1 pound assorted candied fruits
1 pound mixed, chopped nuts
Sift a mixture of the following over the fruit:
4½ cups sifted flour
4 teaspoons soda
2½ teaspoons cinnamon
1 teaspoon nutmeg
½ teaspoon ground cloves
1 teaspoon salt
(NOTE: Blend the flour with the fruit.) Then, stir the applesauce mixture into the fruit blending well. Pour into wax paper lined, greased loaf pans. Bake at 250° for about 2 hours or until done. Remove from pans and cool on a wire rack. Makes 3 loaves.
APPLE WHIPPED TOPPING
1 apple, peeled and chopped
1 cup sugar
1 egg white
2 tablespoons lemon juice
Combine and beat till stiff.
Page 8 Top of Page
CANDIED FRUIT WITH CITRONS
2 medium citrons
4 cups sugar
2 cups water
enough sugar to roll fruit in
Cut citrons into chunks. Remove seeds, cover with boiling water, cook until tender, remove rinds, cut fruit into ¼ cubes. Drain over night in colander. Combine sugar and water until it reaches "soft" ball stage. Add citrons and let set in the syrup overnight. Drain and roll in sugar. Put on cookie sheet to dry in slow oven (250°) until pieces are firm.
CANDIED CITRUS
Use peels of 6 large oranges
1 tablespoon salt
4 cups water
3 cups sugar
hot water
Cut peels into chunks. Let stand in water and salt mixture overnight. Drain and wash thoroughly. Cover with water, and bring to a boil. Drain, repeat boiling procedure until peels are not bitter. Measure out 3 cups of peel. Use enough hot water to cover the 3 cups of peels and 3 cups sugar. Cook until peels are translucent. Drain. Roll in granulated sugar. Dry on a wire rack.
ARTICHOKE DIP
1 cup mayonnaise
1 cup Parmesan cheese
1 can chopped artichokes
Combine all ingredients and mix well. Bake at 350° till "bubbly". Remove from oven and serve hot with crackers, etc.
DEVILED EGGS AU POULET
6 hard cooked eggs
One 5 ounce can chunk style Swanson's Mixin'
Chicken or Tuna
3 tablespoons mayonnaise
1 tablespoon finely chopped celery
1 tablespoon finely chopped onion
1 tablespoon prepared mustard
Cut eggs lengthwise, scoop out yolks. Combine yolks and stir in remaining ingredients. Stuff eggs. Sprinkle with paprika. Chill.
GRANDMA'S TAFFY SAUCE
In a saucepan, add 2 tablespoons cornstarch and 1 cup brown sugar, and mix well. Slowly, add 2 cups very hot or boiling water. Bring to a boil for 1 minute. Remove from heat and add 4 tablespoons of butter or margarine, plus 2 teaspoons vanilla. Stir to mix well. Serve warm over plain cake or coffee cake.
CINNAMON SAUCE
In a saucepan, add 1 cup sugar, 1 tablespoon cornstarch, and 1 teaspoon cinnamon. Mix well. Slowly add 1 cup VERY hot or boiling water. Bring to a boil for 1 or 2 minutes; remove from heat, and add ¼ cup butter or margarine. Stir to mix well. Serve warm.
SANDIES
Cream 1 cup butter with ¼ cup powdered sugar. Add: 2 teaspoons vanilla, 1 tablespoon water, 2 cups flour, and mix. Add 1 cup chopped pecans. Make into small balls. Bake on an ungreased cookie sheet in slow oven (300°) for 20 minutes or until light brown. Roll in powdered sugar while warm.
Click here to go to the next month of 1981.